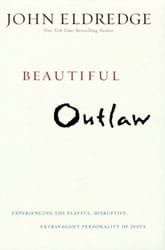 Now Featured in the Patheos Book Club:
Beautiful Outlaw
By John Eldredge
Chapter One
The Playfulness of God and the Poison of Religion
The Playfulness of God
This adventure takes place a week or so after Jesus saunters out of the tomb he borrowed. The apostle John, one of Jesus' closest friends, recounts it:
Afterward Jesus appeared again to his disciples, by the Sea of Tiberias. It happened this way: Simon Peter, Thomas (called Didymus), Nathanael from Cana in Galilee, the sons of Zebedee, and two other disciples were together. "I'm going out to fish," Simon Peter told them, and they said, "We'll go with you." So they went out and got into the boat, but that night they caught nothing.
Early in the morning, Jesus stood on the shore, but the disciples did not realize that it was Jesus. He called out to them, "Friends, haven't you any fish?" "No," they answered. He said, "Throw your net on the right side of the boat and you will find some." When they did, they were unable to haul the net in because of the large number of fish.
Then the disciple whom Jesus loved said to Peter, "It is the Lord!" As soon as Simon Peter heard him say, "It is the Lord," he wrapped his outer garment around him (for he had taken it off) and jumped into the water. The other disciples followed in the boat, towing the net full of fish, for they were not far from shore, about a hundred yards. When they landed, they saw a fire of burning coals there with fish on it, and some bread.
Jesus said to them, "Bring some of the fish you have just caught." Simon Peter climbed aboard and dragged the net ashore. It was full of large fish, 153, but even with so many the net was not torn. Jesus said to them, "Come and have breakfast." (John 21:1-12)
So many things are delicious about this story it's hard to know where to dive in. First, the boys have gone fishing. Can you blame them? The events of the past two weeks have been, to say the least, overwhelming. The emotional high of the triumphal entry—palm branches waving, crowds shouting "Hosanna!"—it all crashed lower than anyone thought possible. Their beloved Jesus was tortured, executed, entombed. But then—fantastic beyond imagining—he appeared to them alive again. Twice. Though at this moment, they're not sure where he has gone off to. Not really sure what to do next, unable to endure one more agonizing moment waiting around the house, they do what any self-respecting angler who needs to get out and clear his head does—they go fishing. Apparently, fishing naked or darn close to it—notice that Peter needed to put his clothes back on.
Notice how casually Jesus enters the scene. His best friends don't even know its him. This is the resurrected Lord, mind you. Ruler of the heavens and the earth. Think Mount of Transfiguration. Jesus could have announced his risen presence on the beach with radiant glory. He knows there is nothing in the world that would help his mates more than to see him again. He certainly could have shouted in his commanding way, "It is I, the Lord! Come thou unto me!" He doesn't. He does the opposite—he "hides" himself a bit longer to let this play out. He simply stands on the shore, hands in his pockets like a tourist, and asks the question curious passersby always do of fishermen: "Catch anything?"
The nonchalance of the risen Christ here is absolutely intriguing. Whatever Jesus is up to, the moment is loaded for his next move.
Now, two more things are needed to set the stage properly.
First, what would you guess Jesus' mood is this particular morning? Surely he must be happy. The man has conquered death, ransomed mankind, been restored to his Father, his friends, and the world he made. Forever. He is in the afterglow of the greatest triumph of the greatest battle in the history of the cosmos. I'm going to venture that he is one mighty happy man. But not the fellas—up all night, nothing to show for it, bleary, half dead at the oars while the boat rocks back and forth, back and forth. They could use some cheering up.
Last, how did these—his closest brothers—first encounter Jesus? It was right here, along the shore of this lake. Possibly this very spot, knowing how fishermen tend to keep their boat near a favorite hole. That first compelling encounter also involved the fellas skunked after a night of fishing. It, too, began with a seemingly random instruction:
"Put out into deep water, and let down the nets for a catch." . . . When they had done so, they caught such a large number of fish that their nets began to break. So they signaled their partners in the other boat to come and help them, and they came and filled both boats so full that they began to sink. . . . So they pulled their boats up on shore, left everything and followed him. (Luke 5:4, 6-7, 11)
10/16/2011 4:00:00 AM