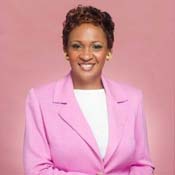 Now Featured at the Patheos Book Club
The Blessings and Bling
How Faith and Fashion Helped Me Survive Breast Cancer
By Dr. Sheron C. Patterson
Sometimes our greatest blessings come from the most unexpected places. Just ask Sheron Patterson, who was faced with a cancer diagnosis that led to her a life's work on helping others face their challenges with faith and style. Here, Sheron talks about her own journey and the new book it led to, The Blessings and Bling.
How did faith and fashion help you survive cancer?
There were many difficult and depressing days during my cancer battle. When I was at my lowest point, God's power reached out to me via the scriptures. The Word of God gave me strength to keep moving. I realized that God had been good in the past and God would continue to be good in the present. I also found that it helped if I did not to look the way I felt. I may have felt awful, but I did not want to appear that way to the public. My appearance needed to reflect what God was doing. God was doing great things, and I wanted to look like it. Therefore I dressed up, looked up, and never gave up!
What is the message of the book?
I hope those who read my story will be able to reframe the problems in their lives. We all know the proverbial quote about turning lemons into lemonade. That is what reframing does too. When a health crisis comes, it is often so strong that it knocks the wind and faith right out of us. Reframing our situations is quite a gutsy and God-believing act. My book is a how- to on reframing.
What is "bling?"
Bling is anything that shines, glimmers and makes you feel good. It can be a $5.00 bracelet from a garage sale, a rhinestone t-shirt or something expensive from a designer. The shine from the outer ware simply matches the glow you have on the inside that comes from the power of God.
What were the toughest moments of your breast cancer journey?
The toughest moment of all time was being told that I needed to have my breast removed because the cancer had spread over all of it. I underwent a lumpechotomy to remove what my doctor thought was a relatively small area of cancer. (A lumpechotomy removes a small portion of tissue and leaves the breast intact.) I prayed and fasted that the lumpechotomy would handle the matter. The realization that I would lose a body part was devastating.
Why is philanthropy so important to you?
Without question, I have been blessed to be a blessing. I do not take being a survivor for granted. I must help as many others who face breast cancer as I can. I raise funds to provide free mammograms to low income and no income women. I speak at breast cancer awareness events. I counsel countless women and their families who reach out to me. Giving back is a constant way of life for me, and I enjoy it.
10/16/2011 4:00:00 AM