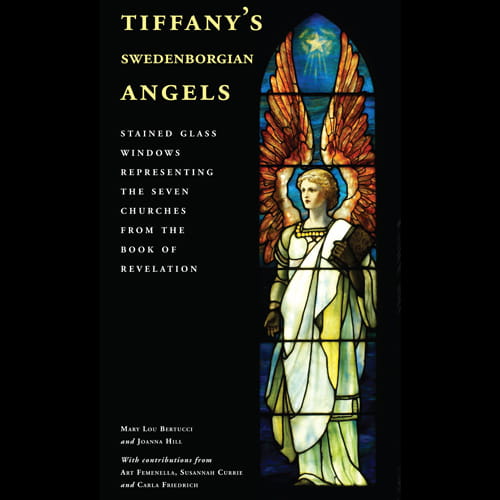 Editor's Note: The windows featured in this gallery are the handiwork of the famous artist Louis Comfort Tiffany and were first presented as a gift from one church to another in 1902. Both churches were Swedenborgian, a thriving theological movement in the 19th and 20th centuries that emphasized the significance of angels—their presence among us, their involvement with daily life, and their model of the kinds of beings humans will one day become.
The following gallery is presented as part of the Patheos Book Club, which is proud to feature a new book devoted to the windows, Tiffany's Swedenborgian Angels: Stained Glass Windows Representing the Seven Churches from the Book of Revelation. Each slide contains a description of the angel and a suggested prayer.
Enjoy the gallery, then head to the Book Club for more on Tiffany's Swedenborgian Angels.
:::page break:::

The Angel of Ephesus
The angel of Ephesus stands serenely beneath a bright star, surrounded by the fiery golden halo of her wings. She holds a branch of the Tree of Life and a bright yellow jewel crowns her hair. Her upper body is sheathed in amber drapery, showing the unique Tiffany "drapery" glass.
She represents the city of Ephesus, in present-day Turkey, where the apostle Paul established a church. The people of Ephesus are faithful and hardworking, but their focus is on rigid doctrine. They take pride in their achievements and ignore the needs of others.
From Ephesus we learn how easy it is to become rigid in belief systems while forgetting the importance of love. The angel of Ephesus radiates a serene state of peace as an example of one who has overcome these challenges. The Tree of Life in her hand represents eternal salvation.
Lord, keep me humble in my ways so that I always know that all good and truth comes from you and that the greatest expression of love is through good work done in kind and unselfish ways. Help me to remember that it is in your name all is done. May your love and wisdom permeate all that I do and say so that I may find the peace of eternal salvation.
:::page break:::

The Angel of Smyrna
The angel of Smyrna smiles beneath a shining star, appearing as a youthful figure in a flowing white mantle. She holds a golden crown, which glows from within due to Tiffany's use of copper foil behind bright yellow glass.
She represents the city of Smyrna. The Smyrnians desire to do good works, but their desire exceeds their level of wisdom, allowing false ideas to creep in, and planting seeds of doubt. But love is the motivating force for all of their actions.
From Smyrna we learn that to do good things for the wrong reasons is only an external good, not a spiritual good. An understanding of God as the source of love and truth is essential to earning the crown of everlasting life. The golden crown is a victory wreath, representing a triumph of truth over falsity.
Lord, grant me the wisdom to hear your words clearly. Teach me to listen carefully and love wisely. Clarify my thoughts and examine my motives so that all good that I do comes through wisdom and is freely given to further the good of the recipient. In this way, please allow me to be a clear and open channel for your love.
:::page break:::

11/16/2011 5:00:00 AM