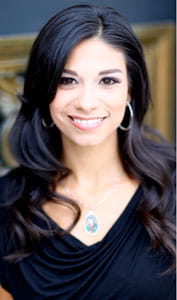 At the age of 14, Rosario Rodriguez was attacked by a man while she walked to the bus stop one morning. He dragged her into a wooded area and tried to rape her.
Though he covered her mouth, Rosario managed to scream the Hail Mary at the top of her lungs. All of a sudden, her attacker looked above her head. During an interview with me on Christopher Closeup, Rosario—now in her early 30's—recalled, "His eyes got really big. He looked afraid, jumped up and ran away. My first reaction was to turn around to see what he saw, but I saw nothing . . . . We've always had guesses [that he saw] St. Michael or my guardian angel or our Lady because I was screaming the Hail Mary. But I believe he saw something divine."
When Rosario described her attacker to police, they identified him as a serial rapist and killer who had been hanging around neighborhood high schools looking for victims. Rosario was the only one who had escaped alive and physically unhurt. Emotionally, however, it was another story.
Rosario said, "I did feel like I lost my innocence . . . I started struggling with post-traumatic stress disorder so I experienced a lot of depression and anxiety. My relationships were not going well. The depression was the hardest thing—and trying to figure out my self-worth. I felt like I didn't have any. I felt like I was treated like trash, so therefore I must be trash."
In her head, Rosario knew that she loved God and He loved her, but her struggle with darkness encompassed her life. Light didn't enter the situation until she reached a breaking point about five years later—a period when she thought she might hurt herself or a loved one because she was filled with rage.
Rosario went to her mother and to the Director of Religious Education at her parish to say, "I need help. I thought I could do it on my own because I have a personal relationship with God, I go to adoration, I go to Mass. But I couldn't. So I said I need professional help."
Rosario started seeing a Catholic therapist who would pray with her at the beginning and end of every session. He was able to talk her through her emotions in a way that led to actual healing.
In addition, Rosario went to her parish priest for counseling. He encouraged her to pray for her attacker, and to speak the words "I forgive him" even if she didn't feel like it. Rosario said, "It didn't happen right away, but . . . I did pray for him. When I got to that place where I experienced healing, I was able to forgive. And when I let go of that rage and bitterness, I experienced so much peace in my life, so much joy, it was an amazing freedom that I didn't think I would ever have again."
One lesson from Rosario's story is that we can't deal with life's hurts on our own. We may think we're self-sufficient and can heal all our problems with determination and prayer. God, however, created us to be in relationship with one another. In fact, He does some of His best work through the people who come into our lives. In Rosario's case, acknowledging that need for help was especially important because it didn't just bring her emotional and spiritual healing at that time. It laid the groundwork for another attack she would endure years later that would bring her even closer to death.
In the ensuing years, Rosario worked as a Catholic missionary through campus outreach, serving the poor in Mexico, and most recently, the Act One program, which supports Christians in Hollywood. In 2009, at the age of 31, she was walking on a Los Angeles street when a woman grabbed her purse and shot her in the chest.
Though Rosario didn't immediately feel the bullet (which remains in her body today), it tore her esophagus, caused her lungs to collapse, and missed her heart by one centimeter. The doctors said she should have died instantly. Instead, Rosario chased the robber and managed to get her license plate, which led to her capture.
Once she was in the hospital, the doctors had to cut into Rosario to insert tubes into her collapsed lungs. She remained awake during this painful procedure because, as the paramedics told her, "Once you're sedated, your body stops fighting for life because it's too at-ease."
Rosario recalled, "There was a moment in the ER when I was on the table that I thought, 'I'm dying right now.' I had so much peace about it. I thought about my life and all the opportunities I've had . . . and I was grateful. I said, 'Thank you, God, you've given me a full and beautiful life.' But then God gave me this vision of my family and every person I'd ever met. They were at my funeral all dressed in black, and I saw my family fall to the ground. Everyone was sobbing uncontrollably and my heart just broke. I said to God, 'They're not ready to let me go yet, are they?' He said, 'No, they're not.' So I said, 'Okay, I'll stay. I'll fight for them.'"
11/1/2011 4:00:00 AM