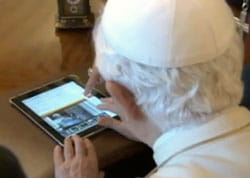 As far as I know, Pope Benedict XVI has never owned an iPhone. You won't find him on Facebook; he is absent from comboxes, and he has tweeted just once. Yet this analog pontiff has been surprisingly firm in encouraging priests to use new media.
During the 2010 Year for Priests, Pope Benedict aimed his annual World Communications Day message at his brother clerics. He gave it the intriguing title, "The Priest and Pastoral Ministry in the Digital World: New Media at the Service of the Word."
In his message, the Pope notes that modern technology gives priests "new and far-reaching pastoral possibilities" and "an almost limitless expressive capacity." He keenly recognizes the vast power of new media and for the following reasons considers it a necessity for priests:
Priests should be "challenged to proclaim the Gospel by employing the latest generation of audiovisual resources."
Because of its explosive growth, new media is "important for a fruitful priestly ministry."
Responding to today's cultural shift "necessarily involves using new communications technologies."
Priests are called to "respond pastorally by putting the media ever more effectively at the service of the Word."
But does the Pope expect priests -- especially young priests -- to wake up one day and suddenly become experts at these tools? Of course not. Then where and when should they hone their understanding? Here's his answer:
They will best achieve [new media proficiency] if they learn, from the time of their formation, how to use these technologies in a competent and appropriate way.
Just as seminaries form their young men in the latest psychological, social, and theological trends, so they must also familiarize them with modern communication tools. Pope Benedict says that future priests must learn these skills "precisely because [a digital presence] brings us into contact with the followers of other religions, non-believers and people of every culture."
In Benedict's mind, seminaries must show priests how to "give a soul to the [Internet]", which means they must form young men not just for the terrestrial world but for the digital one, as well.
11/3/2011 4:00:00 AM