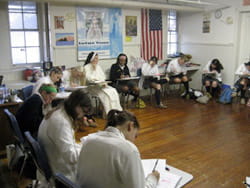 On a Friday morning, I walked into a room full of young women. They sat in desks arranged in a circle, with a habited Sister amongst them mediating discussion. The discussion was even in tone, conversational, intelligent. The women were discussing a text, to which they referred regularly, highlighting passages, and raising points or questions that moved the conversation forward. No one argued. The other women in the room listened intently to whomever was speaking. They read each other's body language, and waited until the speaker completed her point before anyone else chimed in.
This kind of mature discourse would be difficult to find on many college campuses. Students must be taught how to do it correctly. I'm hard pressed to remember a seminar from my own college experience in which everyone had read and apparently understood the assigned text, much less could they discuss the reading without interrupting one another and pushing the conversation toward emotional arguments.
Impressively, this seminar took place at a high school, Mount De Sales Academy, just outside of Baltimore, a single-sex Catholic high school operating under the guidance of Nashville Dominican nuns. Perhaps more impressively, the text to which they referred was Blessed John Henry Newman's "An Essay on the Development of Christian Doctrine," which is, to say the least, difficult reading.
"Holiness, not hot air!" was the goal listed on the rubrics for the course, and it brings to light the bright potential of Catholic Education when faith is integrated into every aspect of the school experience, rather than tacked onto the beginning and the end of the school day with opening and dismissal prayer.
Students at Mount de Sales wear blazers, skirts, and a miraculous medal around their necks. The chapel is located in the middle of the school's historic facility, and students passing through it genuflect on their way to class. Many times a day, the young women are made aware of the presence of Jesus in their midst, either through the physical presence of the Sacrament in their school building, through the Christ-like example of the Sisters and faithful lay people who teach them, and through the other students striving to live Christ-like lives.
"We are body and soul," says school principal, Sister Anne Catherine Burleigh, OP. "And there is a body and soul to the school as well. We cannot afford not to be academic. There's no choice to be made between faith and academics. You can be both."
Sister Anne Catherine notes that Catholic schools have a mission, which is the same mission as that of the universal church: to inform, to form (character and virtue), and to transform (go out and evangelize). "I think many schools struggle to create an identity, coming up with mission statements and so forth, but the mission of Catholic education comes from the tradition of the Church. We articulate our Catholic identity a thousand times a day when we live faithful lives."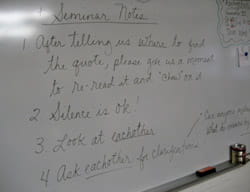 What is a Catholic Identity? As with many things, we know it when we see it. The entire faculty in all the disciplines at Mount de Sales share the Catholic Faith, which creates a Christian Community. I spoke with several students about what brought them to the school, and all of them, independently of each other, noted the family atmosphere, and Christ who is at the center of it.
Love, sharing, caring—this is the extent of virtue education in many schools. Sister Anne Catherine notes that students can see through the emotionalism of a faith that's not grounded in reasoned principles. They know it's wrong to hit, but it's wrong to hit in the public schools as well. A Catholic school can go the extra step and explain why it's wrong, why a life of virtue is preferable, with clearly and unapologetically stated Gospel truth; and this is where studying the Doctors of the Church comes in. It also provides the Sacramental tools that make living a virtuous life possible.
"Our students are receiving the education we would have loved to have, and hopefully they graduate with an awareness of the responsibility that it entails. They are equipped to go out and be leaven in the world."
There will always be other schools with more money for computers and state of the art facilities, but it is a privilege for a school to call itself Catholic. Once a school has a handle on its Catholic Identity, then it can really soar academically. People want that difference that maybe they haven't been able to articulate for themselves, but when they see it, they know it's the real deal.
The Nashville Dominican Sisters have gained a national reputation for helping to facilitate this Catholic Identity wherever the sisters go. Many parents and administrators are wondering, how can we get the Nashville Dominicans to come into our schools and transform them? The Sisters shine a light on the potentialities of Catholic education, but they also point a way for the laity. Christ is the one who transforms us. If he is integral to our lives, he will be integral to our schools. Holiness, not hot air.
12/22/2011 5:00:00 AM