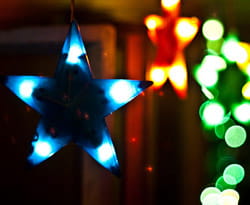 It is hard to believe that this Sunday we celebrate the third week of Advent and that we are more than halfway to Christmas. For families who have the tradition of lighting an Advent wreath, this is the Sunday when we light the rose-colored candle to signify that the preparations for Christmas and the birth of Jesus Christ, the light of the world, are nearly complete. This is called "Gaudete Sunday," which comes from, "Gaudete in Domino semper!" (Rejoice in the Lord always!).
The way to keep Christ in Christmas is to focus on Advent. Making and passing on family traditions each year in preparing for the season is what makes Christmas special and creates memories.
Besides placing the Advent wreath I would make at school in the center of our dining room table, another of the Advent traditions I loved as a child was setting up our nativity set. My mom would clean out our fireplace and get clean straw from a local riding stable to place down below the beautiful statues of the holy family, the animals, shepherds, and wise men. My dad would hook up a small light hidden behind the angel hanging over the scene as the light from the Bethlehem star. I would just sit there and take it all in, smelling the sweet smell of the straw and thinking of baby Jesus born in a manger. It was a way to focus on the true meaning of the season.
When my son was little, we added to our Advent a new tradition of writing on small pieces of paper something we were going to do for a gift to bring to Jesus for his birthday, and putting it into a pretty wrapped box by our crèche. In that way, it was a reminder that Advent was a time to prepare—a "little Lent."
The first weekend of this Advent, we had our little granddaughters over. While I was making a Christmas craft project with them, I told them these stories. My nine-year-old granddaughter asked questions about Advent and the tradition with her daddy when he was a little boy. She liked that idea and asked if we could do that when we set up our crèche.
While the almost three-year old took a nap, she and I got out our nativity set and put it up. She carefully put each statue in its place. I found a very pretty gift box wrapped in deep green velveteen that I had saved from a gift I received a few years ago. Taking pinking shears to make the little pieces of paper more decorative, our granddaughter cut out a piece of paper for each of us to write down what we were going to do for Jesus. She took several minutes just thinking of what she wanted to write, and I told her that she didn't have to tell anyone if she didn't want to—it was her private Advent gift for Jesus for His birthday. After we wrote down what we were going to do for Advent, we all put it into the little box and placed it by the crèche.
When the little one woke up and saw the manger all set up, she let out an "Oh!" She was surprised and delighted. I went over to it with her, and she picked up the little statue of baby Jesus very carefully in her small fingers and gently kissed it, placing it back with great care.
Ed and I left for our first cruise the day after that, and we agreed that one of the things we enjoyed the most on the ship was our balcony. We would sit out there as much as we could. We both caught up on reading, and sometimes I would just meditate and pray while listening to the waves rushing by us. One of the things I wrote on my paper in that box at our crèche for Advent was to meditate on the Scriptures about the Christmas story. The balcony of our cabin became a peaceful place to do that.
Being out at sea with nothing but this ship and that expanse of water and the distant horizon made me think of how small I am, and how big God the Creator is. With the Advent season in mind, and with Christmas coming—the King of kings born not in a palace but in a humble manger—those stories took on new meaning.
One night, Ed went outside on the balcony to look at the stars. I asked him to describe what he saw. He said it was beautiful; the only light was the reflection of the ship in the water and the stars shining in the night sky. It made me think again that Jesus is that light we are waiting for in Advent to come at Christmas, and waiting in joyful hope when He comes again. Yes, rejoice in the Lord always—the light of the world is coming!
12/9/2011 5:00:00 AM