Such are the journeys and sacrifices Mormons make to get to sacred ground. Sometimes these journeys are physical, and sometimes they are spiritual. They may include wading through real mud, or symbolically washing away the deep dust of tradition and cynicism.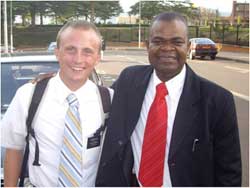 Elder Price with President Bala
The essential counsel to all who accept the name of Christ through baptism—to bear one another's burdens and stand as witnesses of Christ—is the starting point of membership in the Church, and the context for all that comes afterward. Both tragedy and miracle are inevitable. Tragedy is usually apparent. Miracles can be harder to identify, though they often shine when considered in retrospect. Some miracles, however, are clear and even astonishing.
Elder Lisowski reported on a polio epidemic in November 2010—just a month before his mission ended. Over a hundred people had been affected; most had died. Government officials were dispensing vaccinations in a three-part series. Doctors would simply stand in a street and yell "Vaccinations!" and lines would form.
On Sunday, November 28, the branch president in Pointe Noire (Pres. Caillet) announced that one of the members—Prince, a young man the missionaries' age, had become seriously ill with polio. He had been admitted to the small hospital with another stricken man—both the same age and at the same stage of the disease—but only one oxygen mask was available. The other man got it, and died soon afterwards The doctors expected that Prince—already becoming paralyzed in all four limbs—would also die.
Elder Lisowski describes the scene:
The front door to one of the wings was locked shut with a big iron bar door, and people were sitting on the grass outside, because their family members were in quarantine. We were told no one was allowed in. We kept pushing for authority to go in, and we eventually were allowed two people. . .
President Caillet was going to give Prince a healing blessing, something anyone ordained to the Melchizedek priesthood can do, but had not himself completed the inoculation series. He was forbidden entrance, and so he asked Elder Gates, a senior missionary, and Elder Lisowski to bless Prince.
Elder Lisowski wasn't entirely sure he had been immunized, but entered the hospital on the assumption that he had, and winged with faith that he would be protected regardless. "We had a prayer together outside," he wrote, "then someone unlocked the gate for us, and we walked in. We gave the blessing (Elder Gates anointed, he doesn't speak French yet) and everyone else was across the lawn outside, joining us in prayer."
Henry Lisowski pronounced a healing blessing, telling Prince that angels were surrounding him right then, that he would be healed, and that many would yet hear the gospel proclaimed by his voice.
A couple of hours later, the Branch President called the missionaries, announcing that a miracle had happened. Prince was up and walking, and would soon be released.

Elders Gates and Lisowski with Prince
Of course, most endings are not so tidy and sweet.
All of the missionaries in Douala, Cameroon helped teach a particular family, that of David and Fridah, their twin sons, Rodi and Dodi, and the older son, Derrick.
Elders Wigginton and Acorda were the first to contact David. Wigginton describes the scene:
As we leave the dark alley and come into the day's light again, I see a man sitting on a chair emanating that light I saw in my head: a middle-aged man with a sharp haircut and moustache. The gold chain around his neck was glistening in the light. As we talk to him, he welcomes the proposition of a short lesson.
We learn he is a non-practicing Catholic. He has a happy marriage of twenty-six years, ten-year-old twins, and a nineteen-year-old son. He loves his family. Finishing our short lesson, I feel impressed to talk about The Book of Mormon. As I do, his facial expression changes. "The Book of Mormon is a good book?" he asks. He walks into his house and brings out a copy, explaining his friend (a Catholic priest) cleaned out his library and told David he could take any books he wanted. He took this book. He said there was something special about it.
12/29/2011 5:00:00 AM