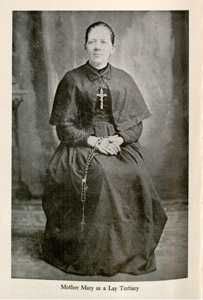 In the summer of 1876, in the slums of Manhattan, 26-year-old Mary Walsh, an Irish domestic servant, was approached by a young girl desperate for help. The girl's mother was sick with fever and her father was in jail. Mary Walsh did something most people wouldn't do; she started begging on the streets for the girl's family. She nursed the mother back to health and helped the father find work when he got out of jail. In the process she lost her own job, but found her life's work.
Later, while she was working for a wealthy family, a poor man approached the back door begging for food. She gave him her own supper. "I knew that day," she said, "that thereafter I was to give whatever I had to those poorer than I." She would spend the rest of her life doing exactly that, living barely above the poverty level.
She had little education, but a natural sense of justice and a deep love for the poor. Orphaned in her infancy, her grandmother raised her in Ireland. At 19, she immigrated to America, to New York City where, with the exception of a few years here and there, she would remain for the next fifty years. New York, her biographer writes, "was always the point of her interest and affection."
In New York, she was "a stranger alone in a city she did not know." It must have been frightening. Her first job was doing laundry for a wealthy family on the Upper East Side, where she got to know the Dominican Fathers at St. Vincent Ferrer Church. She considered joining a monastic community, but her spiritual director suggested an active apostolate where she could exercise her real calling—to help the poor.
Mary became a Third Order Dominican, a layperson who lives out a religious order's charism in their daily lives (the first two orders are priests and nuns). With a friend, she rented rooms near the church and took in laundry to finance their work with the poor. Later they would move to Hell's Kitchen, a largely immigrant community crowded in unhealthy and dangerous tenements. Together they looked after about twenty different families.
Many poor people feared being sent to the hospital, where the quality of care varied greatly, so Mary and her companions went to their homes. They cooked, cleaned, tended the sick, and sometimes they just helped ease the loneliness of the poor. "Just to let them talk," she once said, "helps them more than anything I could possibly say." She and her companions never discriminated on the basis of "color, or religion or lack of it."
"What a privilege," she insisted, "it is to work for the sick poor!" For Mary, they were "the children of God crucified on the Calvary of Life." For the children "Santa Claus had forgotten," she brought presents. One woman remembered Mary buying her a dress for her First Communion. One night she stayed all night in a bordello with a dying prostitute. When a policeman expressed his surprise at her being in such a place, she shot back: "Never forget, Mr. Clancy, that those poor people have souls, too."
A woman of medium height and plain features, and with little education, Mary Walsh nevertheless made a strong impression. People remembered her sincerity and enthusiasm, her strong will and generosity. One policeman said of her: "That woman is a saint, I do believe." A peer remembered: "She never stood for any nonsense; and when she thought someone was taking advantage of the poor, she could put him in his place." To those who suggested the poor didn't work enough, she shot back: "If you had an irregular starvation wage, and your wife was desperately sick and your children in need, what would you do?"
For thirty years, Mary Walsh and her companions lived and worked as a religious community without formal Church approval. "They begged for the poor," one historian writes, "but not for themselves." She slept on wooden floors for many years before she ever had a bed of her own. In 1910, when Mary was 60, they were accepted as "the Dominican Sisters of the Sick Poor."
It was never a big community. At the time of her death, there were about two dozen members. They operated on their own labor and on donations, and Mary called God her "banker." Once, when she had bought dozens of blankets for the poor to the tune of $800, she came home to find a check for $1,000 from the millionaire Thomas Fortune Ryan in thanks for "favors received."
She told her Sisters: "Never mistrust my Banker."
In time, the community would expand to the Midwest and Southwest. Mary's great ambition, albeit an unrealized one, was a free hospital for the poor. But, she said, "never forget, hospital or no hospital, I want the poor to receive the same care as those who can afford to pay. If after my death I ever knew that one of God's poor was not treated as he should any member of our community, I would suffer indescribable pain."
12/6/2011 5:00:00 AM