Give yourself fully to God. He will use you to accomplish great things on the condition that you believe much more in His love than in your own weakness. ~ Blessed Teresa of Calcutta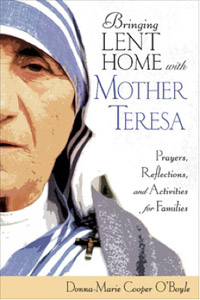 Welcome to Patheos, Donna-Marie! As you know, I'm a devoted fan of your books, so it's an honor to have you join us to chat about your absolutely superb new booklet through Ave Maria Press, Bringing Lent Home With Mother Teresa: Prayers, Reflections, and Activities for Families, which has just been released! Congratulations! Tell us how this project came about.
Thank you very much, Lisa. I am excited about the release of this book because of what I feel it can do to aid families during their Lenten journey. This book came about through collaborating with Ave Maria Press who approached me and asked me if I could write it for them. I was delighted at the opportunity of course, since I love to pass on Mother Teresa's spirituality.
I really can't recommend this resource highly enough. At only 96 pages, it's just beautifully put together and packed with quotes from Mother Teresa and fascinating true stories about her life, insightful reflections for parents, activities for children, and more. It's quite a package and extremely affordable at $2.50. It would make a great gift for Lent for every family on anybody's gift-giving list. I'd say it's the perfect Valentine!
Thanks, Lisa. I am very glad it's so affordable for families. Parish ministers can purchase them from Ave Maria Press in bulk quantities for their parishes too. That number, folks is 800-282-1865, for bulk orders, or you can go to the website!
Would you mind giving us a little personal insight into your life of faith? Many people know from your interviews and from your prolific writing and speaking career, that you had a close friendship with Mother Teresa (now Blessed Teresa of Calcutta). How would you say her influence on you has changed your outlook on life, family, and faith, and what are the fruits of that change?
First of all, I am a Catholic wife and mother of five on earth and three in heaven. I've been a catechist for over twenty-five years because I feel I should always give back and I just love teaching kids the Faith. We have to get to them when they're young. I also feel that we need to reach their mothers too—the hearts of the home so that they will have the tools to equip them in the training of their families so they can raise their little saints to heaven!
This book, Bringing Lent Home with Mother Teresa, I hope will do both: reach the parents and the children and give them something very inspiring to think about and do during Lent.
I think it would be difficult for me to try to express exactly how Mother Teresa's influence has changed my outlook on life. I did my best to express it in my book Mother Teresa and Me: Ten Years of Friendship, in which I talk about how my life naturally unfolded deeper in ministry after meeting and coming to know Blessed Teresa.
I know that you had the privilege of a number of private visits with her and exchanged many letters over the years. What would surprise us most about the humanity of this iconic "Saint of the Gutters"?
Blessed Teresa was very short in stature. I was a bit startled to see how short she really was when I first met her. And, what I find quite extraordinary is how this "little" woman changed the way the whole world viewed poverty and the poor because of her "Yes" to God. She taught us that there exists a greater hunger in our world than the hunger for a piece of bread. People are starving, especially in our western world, for love. They may look all put together, but they may be hurting inside due to loneliness. Mother Teresa encouraged us to reach out and love them, to see Jesus in them as she did and strive to satiate Jesus' thirst on the Cross.
1/11/2012 5:00:00 AM