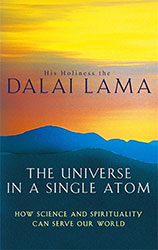 Dalai Lama, The Universe in a Single Atom: The Convergence of Science and Spirituality
This breathtakingly personal examination is a tribute to the Dalai Lama's teachers—both of science and spirituality. The legacy of this book is a vision of the world in which our different approaches to understanding ourselves, our universe, and one another can be brought together in the service of humanity.

Eckart Tolle, The Power of Now
Tolle introduces readers to enlightenment and its natural enemy, the mind. He awakens readers to their role as a creator of pain and shows them how to have a pain-free identity by living fully in the present. The journey is thrilling, and along the way, the author shows how to connect to the indestructible essence of our Being, "the eternal, ever-present One Life beyond the myriad forms of life that are subject to birth and death."

Don Miguel Ruiz, The Four Agreements
Rooted in traditional Toltec wisdom beliefs, four agreements in life are essential steps on the path to personal freedom. As beliefs are transformed through maintaining these agreements, shamanic teacher and healer don Miguel Ruiz asserts lives will "become filled with grace, peace, and unconditional love."
:::page break:::
9/20/2013 4:00:00 AM