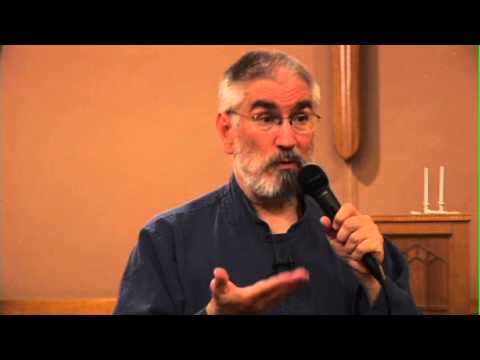 An artful retreat leader, Carl guided us beautifully on a journey into the depths of our souls by way of storytelling, contemplative prayer and silence. Novices and experts alike walked away fully enriched and whole by resting in God and basking in the communal love Carl brought to this gathering.
— Bryna Bozart & Linda Flynn, Charlotte
Spirituality Center, Charlotte, NC
Carl McColman loves to share his passion for contemplative practice, interfaith dialogue, and other dimensions of spiritual wisdom with groups and communities of all sizes and shapes: young or old, clergy or lay, religious or secular, ecumenical or interspiritual. He enjoys connecting with local or regional gatherings of churches or other faith communities, and is comfortable working in seminary or other academic settings as well as experiential or retreat circles.
Carl brings enthusiasm, a down-to-earth teaching style, and an appealing balance of playfulness and reverence to his presentations. He particularly enjoys opportunities to engage in dialogue with those who attend his presentations. His goal is to create a meaningful and safe space where each person present can tend to the nurture of his or her own soul. Whenever possible, Carl incorporates prayer and attentive silence into his presentations as a way of anchoring the words he speaks in an authentic and practical spirituality.
Listening to Carl was like being present while a grand-slam home run was taking place: articulate, warm, intelligent — an excellent presenter of some rather challenging concepts.
— Ruth Hopkinson, Williamsburg Unitarian Universalists,
Williamsburg, VA
Here is a partial list of topics Carl enjoys sharing with communities like yours:
Writing and Journal Keeping as a Spiritual Practice 
The Wisdom of the Christian Mystics
Introduction to Monastic Spirituality

Benedictine
Cistercian
Neomonastic

Developing a Daily Prayer Practice 

Contemplative Prayer and Meditation
Lectio Divina
The Divine Office

Contemplative Practice and Interspirituality/Interfaith Dialogue
The Wisdom Teachings of One or More Specific Authors:

The Desert Fathers and Mothers
Julian of Norwich
The Cloud of Unknowing
Evelyn Underhill
C. S. Lewis
Hildegard of Bingen

Spirituality of the Celtic Saints
Many other possibilities — if you don't see the topic you're interested in, please ask.
Where appropriate, Carl is honored to offer homilies to faith communities, sharing how contemplative spirituality relates both to the scriptural lessons of the day — and to the challenges of everyday life.
In the metro Atlanta area, Carl is available for events as brief as one hour. He is also willing to travel and present to communities anywhere in the world. Consistent with his commitment to the teachings of Saint Benedict, Carl's travel requirements are modest and his honorarium needs are reasonable and negotiable.
Carl is an authentic and captivating retreat leader and author. The joy and love of God emanates through him, his writing and his teaching as he brings to life some of the deepest secrets of the Christian spiritual tradition.
— The Reverend Deedra Rich, Interim Associate
Director, Christian Spiritual Formation Program,
Columbia Theological Seminary, Decatur, GA
Carl McColman used a wonderful mixture of silence, prayer, humor, and teaching as he led our retreat.  He created a meaningful time for those who are new to the contemplative life as well as those with previous experience.
— The Reverend Katrina Paxson,
Associate Pastor for Discipleship,
St. Paul United Methodist Church,
Louisville, KY
Carl was well received by his audience here in Portland, OR. He demonstrated a broad depth of knowledge of his subject matter which he presents with high energy, scholarship, and good humor in an accessible format. He is attentive and personable with a willingness to spend time in one on one and group conversation in addition to his formal presentations. I heartily recommend him.
— The Reverend Charles Cooper, Institute for
Progressive Spirituality, Portland, OR
I have known Carl McColman for many years, as a friend, as a Lay Cistercian, as a frequent lecturer on our retreats in the retreat house, and in his capacity as a worker in our Abbey Store.  I can attest to his fine character and his solid Catholic orthodoxy.  He has a broad working knowledge of our faith and other religious traditions and has a wonderful way with people.  I always enjoyed the many times I assisted him when he led retreats here at the monastery.  He is an excellent and well informed teacher and has a gift for making people feel very much at home.  I have never failed to be impressed with his generosity when it came to offering his time, his insights, his advice.
— Father James Behrens, OCSO, Monastery
of the Holy Spirit, Conyers, GA
If you would like Carl to visit your community, please click here to contact him. Thank you.