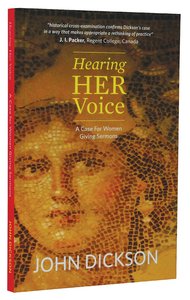 John Dickson's e-book, Hearing her Voice, is now available in a revised and expanded edition in paperback. It has caused quite a stir in Sydney Anglican circles and has received a lot of push back.
It is available for order from Australian Christian book chain Koorong, see here. There are some good endorsements from guys like J.I. Packer and Craig Blomberg.
Here is an excerpt from the book:
My preliminary conclusion is simple. Only one of the numerous types of public speaking in church is restricted to men in the New Testament—the activity of "teaching." On what grounds, then, have we made this activity alone wholly equivalent to the modern sermon, to the neglect of other forms of New Testament speaking? Why are sermons always to be thought of as teaching, when one might just as easily (more easily, in my view) equate them with what Paul calls the exhortation?

If I invite my Women's Pastor to stand up after the Bible reading and in the power of the Spirit exhort my congregation for twenty minutes to heed and apply God's Word, how does this breach Paul's instructions in 1 Timothy 2:12? She has given a "word of exhortation." Paul only forbids her to "teach." They are not the same thing. I will develop these ideas further, but I want to indicate at this point that this is close to the heart of my argument. If sermons were always only "teaching," I would have no problem excluding women from the pulpit. (That is precisely what I believed for the first decade of my ministry.) However, if sermons—even just some sermons—are closer to "exhortation" than they are to "teaching," what biblical grounds remain for excluding women entirely from this ministry?