The conversation has been joined by Abnormal Interests, who views the language of religion as extra baggage that makes the trip less enjoyable. Now as someone who has lugged multiple pieces of very heavy luggage on trips from one country to another, I definitely don't want to drag along unnecessary dead weight – it does indeed spoil the trip.
So why not just do away with the metaphors and speak in plain language? Because I don't think we can speak about the ultimate except in metaphors.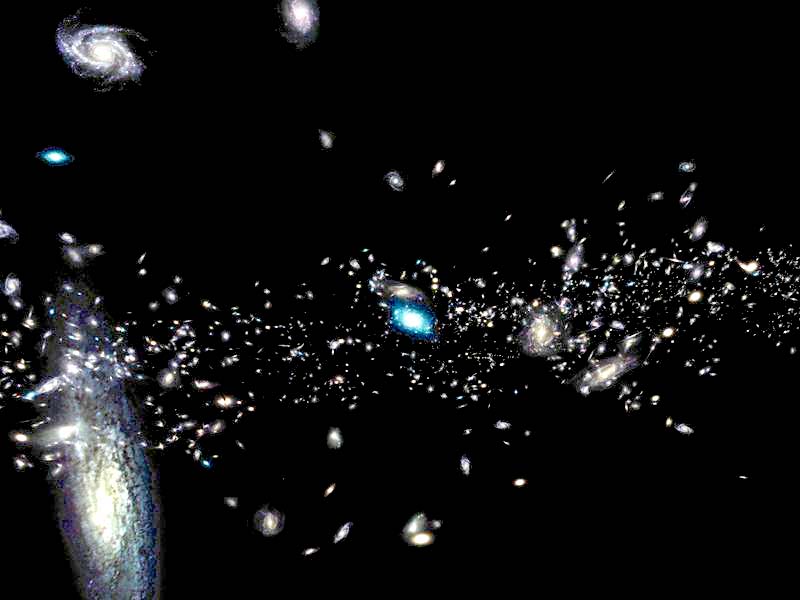 I'd like to introduce into this bloggersation the question "What is ultimate?" For me, this question is in one sense unanswerable except in vague terms such as "mystery", but to say anything further, we will inevitably (1) give expression to our deepest concerns and highest values, and (2) use metaphor.
An atheist may say that "nothing" is ultimate. The universe, or the multiverse, simply is. But there is simply no evidence for that, nor is there any sense in which this claim solves logical problems, unravels the mystery of existence, explains anything at all, or does anything more than affirm a conviction: that there is no guiding hand supervising history, no supernatural interferences, no miracles, and (for many who follow this train of thought) no meaning, no purpose other than to pass on our genes, which may ultimately be meaningless too since we have no certainty that our species will survive its own tendency to self destruction, or the death of our sun, or the big crunch or endless expansion of our universe.
The conservative theist is no better off in terms of offering an explanation. A God who simply is does not have logical advantages over a universe that simply is.
But the liberal religious believer is different from both of the above. Such a person is aware that all we are doing when speaking about the ultimate is not explaining the origin of that which exists, but giving expression to our values and what is important to us.
Many such religious believers opt for other metaphors than classic theistic ones. They do so because they see that there is something deeply problematic about attributing good things that happen to God while just appealing to mystery or God's inscrutible will for all the bad that happens. They do so because they themselves often had such an anthropomorphic concept of God, and have as they matured come to realize that they projected onto this God their own sense of self-importance, their own sense of being the center of the universe, their own desire that their enemies "get what's coming to them".
We also find that the emphasis on being encompassed by a reality greater than ourselves, it helps affirm the importance of humility and our committment to viewing ourselves as not ultimate, as not the end all and be all of existence. Abolish all notion of God and that truth seems to us to be too easily forgotten.
Neil de Grasse Tyson speaks of his own sense of being "called by the universe", the place of pilgrimage in astronomy, the happiness or otherwise of photons, how highly we think of ourselves, poetry, majesty, and the similarity of his language to that of people who have revelations of Jesus or make pilgrimages to Mecca. Can we really do without metaphor?
I'm happy to discuss what the best metaphors are, and how we assess them, and why we prefer some to others. But those who suggest that we can do without this sort of language, I would suggest, are missing something important in their lives.
For more that is relevant to this subject around the blogosphere, see Truth and Tradition and Mystical Seeker's latest contribution to the discussion, internetmonk on the God of Job's complaints. If you're looking for a more conservative Christian perspective, try Parchment and Pen, while Science Avenger affirms that atheists don't need religion. See also Science and Reason on morality and the brain, John Pieret on dumb fundamentalist comments on an article about a cosmologist-theologian, and Scotteriology on seminarians who deny being theologians. Henry Neufeld asks whether science education leads to atheism.
But progressive religious believers of various sorts and various traditions find that if they try to cast aside metaphors and symbols altogether, their worldview is flattened and impoverished in the process. Their are things that are part of our experience, part of our values system, that cannot be expressed in reductionistic or mechanistic terms.