I am about a week behind on watching Alcatraz, and have not blogged about every episode. But one of the episodes that aired last week, "The Ames Brothers," bears mention because religion features prominently, if briefly.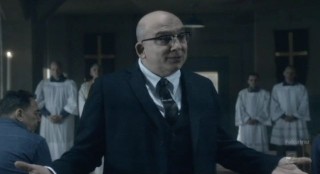 In the relevant scene, chief warden James is about to deliver the homily in the chapel. He talks briefly with Pinky Ames, asking whether he is there just for the opportunity to leave his cell, or because he is genuinely a religious seeker. When Pinky says that he thinks of himself as spiritual rather than religious, and asks what the difference is, he replies: "Spirituality is for those seeking understanding. Religion is for those seeking reward."
That would sound less hollow if it weren't for the fact that
Pinky and his brother are after a legendary stash of Civil War gold supposed to be hidden on the island
. But the quote is still worth mentioning, and discussing.
Part of the homily itself is also worth quoting: "Too often the power of Scripture can be overdressed with oratory, like a storefront mannequin postured under the bright lights of explanation – as if redemption was something to be sold on a window-lined boulevard, as opposed to be simply offered…"
Have you been watching Alcatraz? What do you make of the contrast between "spirituality" and "religion" in the episode "The Ames Brothers"? Is anyone not seeking reward, even if that reward is understanding?