In a post about five jobs a creationist cannot do, linguistics was included. Since some might be surprised, I thought I'd comment a bit more on that.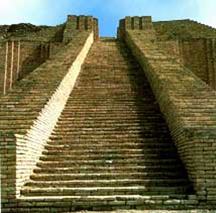 Creationists deny linguistics, just as they deny evolution and astronomy and geology, because of an approach to Genesis which they think is literal. In this case, the story in question is the Towel of Babel story in Genesis 11.
There too, as in Genesis 1, they are not consistently literalists. I am quite certain they don't think that Yahweh had to descend from the sky in order to be able to see the tower.
But that detail is just one element that clues the reader who actually takes the story literally that it is satire. It is literally a satirical account of the Babylonians' attempt to build the world's biggest ziggurat, Etemenanki, which they may or may not ever have actually completed, but either way, the constant "under construction" status and appearance of which may have led to the story in Genesis.
The other reason young-earth creationists deny linguistics is that it involves deductive reasoning based on evidence which is precisely of the sort used by modern biologists to reconstruct the history of life on our planet.
If we look at modern-day Romance languages, we can see a resemblance between them. We can also study fossils of an ancient language that was spoken in the same region, Latin. We can spot transitional forms throughout the textual fossil record. But there is no way to "prove" that Italian, French, Spanish, Portuguese and Romanian evolved from Latin, if one is willing to explain away the logical inference from the evidence by saying that God simply created any languages in their present form, and any seeming intermediate states are simply separate languages created by God.
After all, we don't see one language changing into another in our time, do we? But that shows the idiocy of the common creationist objection. Languages are constantly changing, but over generations, at a rate that is not noticeable to a single individual. Those changes they do witness could simply be called "microevolution" of language. And just as
no biologist says that a monkey suddenly gives birth to a human
, no linguist says that Japanese might spontaneously become English. Those who suggest that either is what experts think evolution (whether linguistic or biological) is about are either ignorant or liars.
One can use the same deductive reasoning to trace things further back. Latin, ancient Greek, and ancient Sanskrit have similarities of vocabulary and grammatical structure. And so there seems to be a common ancestor of them as well.
Of course, the evolution of English from Old English over the past millennium is accepted by groups like Answers in Genesis. As with Genesis 1, they simply define a language "kind" and an animal "kind" so that they can try not to sound too nonsensical. But when one traces the evolution of language over a thousand years, or two, then it ought to become clear that by the end of the process, one can have several new languages which descended from one that is now extinct.
Change over time. Evolution, diversification, extinction, descent. Deductive reasoning. Everything that allows us to figure things out about the past and draw conclusions – that is what young-earth creationists deny.