Review of Quartet, Directed by Dustin Hoffman, and Amour, Directed by Michael Haneke
By CHRISTIAN HAMAKER
After seven Oscar nominations and two wins as an actor, Dustin Hoffman moves behind the camera for Quartet, his official directorial debut. (The actor co-directed Straight Time in 1978, but went uncredited.) The results aren't award-worthy, but they're pleasant enough, and they stand in stark contrast to Amour, another film about the life of the elderly, but one that has generated five Oscar nominations.
Quartet is about, among other things, the indignities of the aging process, the acceptance of one's limitations and the importance of sharing one's gifts—however frail or diminished—with others. In that, Quartet is a more palatable portrayal of aging than Michael Haneke's acclaimed Amour, which touches in similar themes.
Is one false and the other true? No, I think both are true in some sense, but Quartet is clearly designed to make viewers feel good, Amour to force them to face things that make them uncomfortable. Indeed, Amour, despite its title, concludes with an act that is anything but loving—is hateful, in fact—and that final turn has lessened my appreciation of Amour while increasing my admiration for the feel-good Quartet. Meanwhile, broader audiences appear to be finding merit in both films.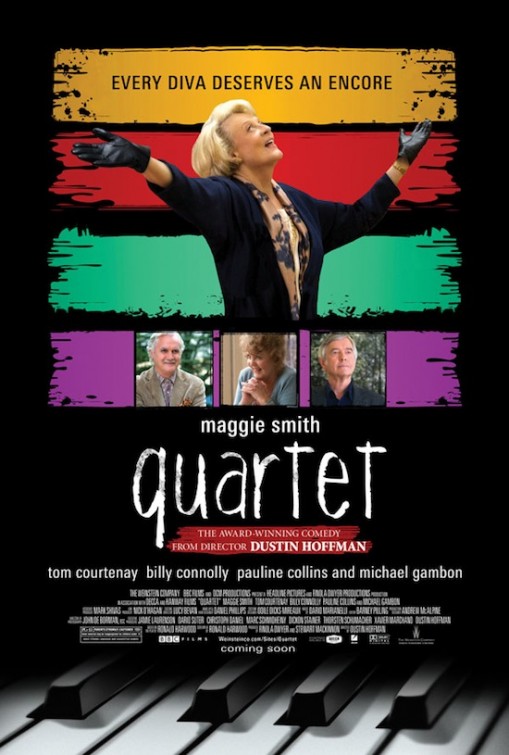 When Jean (Maggie Smith) arrives at a home for aging opera singers and musicians, she brings with her the possibility of a reunion with three other residents at the facility—Wilf (Billy Connolly), Cissy (Pauline Collins) and Reginald (Tom Courtenay), who was once briefly married to Jean. The home is threatened with closure, but a performance by the reunited quartet is expected to be a blockbuster that will raise enough money to keep the place open.
The home is a community—a place where people aren't so likely to be drawn to isolation, even if isolation is what they claim to prefer. In their efforts to win Jean's participation in the scheduled performance, the other members of the quartet work to serve not only their own interests, but also those of the broader community, which will be ruptured by the facility's potential closure.
The story holds few, if any surprises. It's simply a showcase for some fine actors to demonstrate their skills. Chief among the performers is Smith as Jean, embittered by past disappointments and unwilling to perform with the other members of the quartet. Is it simply her pride that keeps her from acquiescing? Might her reluctance be rooted in a long-ago wound that never healed?
The story, based on a Ronald Harwood stage play, is enjoyable throughout. Having an actor (Hoffman) direct what is, at root, an actor's showcase, proves to be the right move. Not only do the four lead characters shine, but Hoffman makes the film just interesting enough on a visual level to justify seeing it on the big screen.
If Quartet contrasts well with Amour, it also provides a nice point of comparison with another recent film, The Best Exotic Marigold Hotel. That film also starred Smith as an aging diva of sorts, and it, too, is well performed if largely inconsequential.
How did audiences respond to Hotel? The story of a group of retirees trying to carry on with their lives in India generated a worldwide gross of $134 million, more than two-thirds of which came from overseas markets.
It's a repeated refrain in Hollywood that certain demographic segments have been, and continue to be, overlooked by studios fixated on teen-driven opening weekend box-office victories. The films that generate good word of mouth—the films with box-office "legs"—are often those that serve an older demographic that doesn't rush to see a movie in its first blush.
So it makes sense that a light, entertaining, well-performed story featuring mature actors would find an audience. But it's not only the feel-good stories that are finding receptive older audiences. As I write this blog post, Quartet has generated a per-screen average box-office take of nearly $10,000 on just 32 screens. At the same time, Amour, powered by its multiple Oscar nominations and other awards attention, has crested the $1 million mark in total grosses and is on track to reap many more receipts.
Are the people who are paying to see Quartet the same people paying to see Amour? The Haneke film shows the struggles of aging and the burdens of caring for a spouse who is in failing health. Quartet isn't so interested in bodily betrayal and deterioration; it focuses more on the consequences of pride, and the long-term price exacted by one's inability to forgive past failures. Surely those sins are as damaging to one's soul as the physical ailments are damaging to the protagonists of Amour, and yet Quartet, although well reviewed so far, will no doubt will be scorned by some critics and viewers as being too lightweight, and for sending audiences out of the theater on a feel-good note rather than pondering the indignities of death.
Whatever one thinks of the merits of each film, the fact that older audiences currently have a choice to see more than one movie about people dealing with the same issues they're facing is notable. They can choose to see a rigorous, expertly acted film about physical frailty and death (Amour) or an elegant, rather light treatment about the power of beauty and art (in the form of music) to help heal emotional wounds. There is truth in both stories.