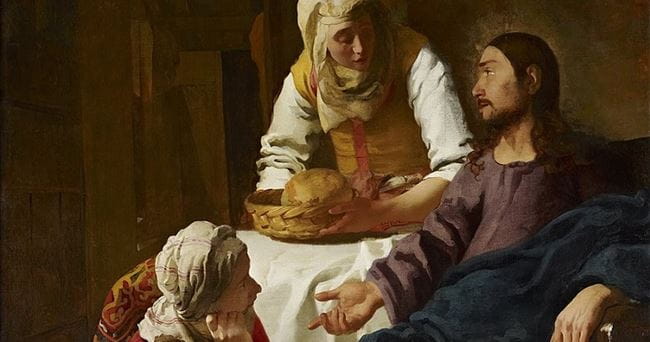 Public domain/Wikimedia
The Christian missionary to China, Hudson Taylor, survived the Boxer Rebellion (1900-1901) as a group of Chinese radicals destroyed mission stations and put countless missionaries to death.
As one report followed another, Taylor sat quietly at his desk, singing softly the words to his favorite hymn: "Jesus, I am resting, resting in the joy of what thou art; I am finding out the greatness of thy loving heart." Taylor refused to busy himself with matters out of his control. He stayed in his lane and trusted God to care for the rest (Luke 10:1-37). In order for us to stay in our lane as well, we must know where our lane begins and where it ends.
Set Right Priorities (Luke 10:42)
Therefore, the second principle we learn from Jesus in Luke 10 is to set right priorities. As Jesus commended the example of Mary:
Now as they went on their way, Jesus entered a village. And a woman named Martha welcomed him into her house. And she had a sister called Mary, who sat at the Lord's feet and listened to his teaching.
But Martha was distracted with much serving. And she went up to him and said, "Lord, do you not care that my sister has left me to serve alone? Tell her then to help me." But the Lord answered her,
"Martha, Martha, you are anxious and troubled about many things, but one thing is necessary. Mary has chosen the good portion, which will not be taken away from her" (Luke 10:38-42).
Focus on Jesus' final statement: "But one thing is necessary. Mary has chosen the good portion, which will not be taken away from her" (v. 42).
The one thing necessary at that particular moment in time was to sit at Jesus' feet and to listen to his teaching. Jesus was not saying that all else was unimportant or that Martha's concerns did not matter to him. He simply claimed that Mary had chosen what was best for that moment.
It's no accident that in Luke's next chapter, Jesus will show his disciples how to pray (11:1-13). They will watch his example (v. 1a), then ask him to teach them as well: "And when he finished, one of his disciples said to him, 'Lord, teach us to pray, as John taught his disciples'" (v. 1b). In this way, Jesus will impress upon his disciples the priority of prayer.
Application Insight: What is your most important priority today? What task is most essential for advancing God's kingdom? Refuse to stress about checking off every item on your to-do list because just one thing done for God's glory will make any day productive. If you can accomplish that one thing, then thank the Lord for his provision and for anything else he empowers you to do.
Consider that Jesus was tremendously busy, but only with the tasks he was called to accomplish. Over forty times, Mark used the term "immediately" to describe the constant flurry of Jesus' active ministry.
Everyone wanted a piece of him, including the demons who knew him by name (Mark 1:34b). Sometimes he was too busy to eat (3:20-21) and, at other times, commandeered a boat to escape the crowds (6:32).
Yet though he was busy in ministry healing the sick and casting out demons (1:34), Jesus knew his priorities. He withdrew in prayer even when "the whole city was gathered together at the door. . . . And rising very early in the morning, while it was still dark, he departed and went out to a desolate place, and there he prayed. And Simon and those who were with him searched for him, and they found him and said to him, 'Everyone is looking for you'" (vv. 33, 35-37).
Jesus had everyone trying to find him, but instead of meeting their demands he snuck away to a quiet place where he could talk with his Father in peace.
Application Insight: Find a quiet place at the beginning of each day before you get to work or school, before your phone starts to ring, before your boss pops into your office unannounced, or before your children begin voicing their requests. Get with God before you get to work.
Perhaps you're a stay-at-home-mom with toddlers hanging from every appendage. Consider Susanna Wesley, who had ten children and constant domestic demands, yet still she committed herself to daily prayer.
There was no room in her home for a prayer closet, so she often covered her head with an apron and instructed her children to not disturb her time with God. One account reported how she would spend two hours in daily prayer. She was a woman with right priorities in place whose sons, John and Charles, would become founders of the Methodist church.
Application Insight: Setting priorities reminds you that you are not the eternal, infinite God (Psalm 90:2). You possess limited time and resources (Isaiah 40:6-7). You cannot add a single hour to your life and any hour you have spent is gone forever (Matthew 6:27). You cannot buy additional time or store it up for tomorrow's use (v. 34).
Even Jesus, during his incarnation, had to live within human constraints, passing up thousands of opportunities each day. So are you doing the one thing that is necessary? Do you daily remind yourself that you're not God?
Setting priorities also helps us serve others more effectively. Perhaps we come home so spent from work that we are of no earthly good to the people we love. Our families too often receive our leftovers.
Perhaps we are so busy in ministry that we find ourselves doing hundreds of things poorly as we are stretched to the breaking point.
Part of setting right priorities includes setting "posteriorities"—tasks to be done only at the end of our to-do list. Just as we teach our kids to finish their homework before they play and to do their chores before they watch TV, we must also set both priorities and posteriorities in our own life and ministry.
Application Insight: If you do not seize your time, then someone else will—usually those who are the loudest, most dominant, and seemingly most needy. They will guilt you into action and constantly ask for more (Proverbs 30:15).
Remember that they are not the Lord. He alone retains sovereign command of your time. Remember also that you are not the Lord. He alone possesses unlimited time and resources. So stay in your lane and set right priorities.
11/29/2021 5:40:02 PM