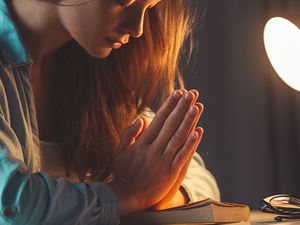 Shutterstock.com
After joining a missionary organization in 1996, I was instructed in the performance of religiously inspired musical mimes, each of which communicated a message. Some were benign but others were horrid, reflecting the meanest and hardest interpretations of scripture out there. The worst was called 'Why didn't you tell me?', featuring two young women who were chatting happily as they drove down a road, only to be killed in a fatal collision and wake up at the pearly gates.
One of the girls is meant to be a Christian and the other, an unbeliever. The unbeliever starts asking all kinds of questions about where they are, and the Christian girl explains they're at the gates of Heaven. The unbeliever gets excited, anticipating the joys on the other side of the shining gates, but is shocked when her friend tells her she won't be allowed in because she's not a Christian. Demons appear and drag her off to Hell while she screams at her friend:
"Why didn't you tell me?"
I was a card-carrying Evangelical at the time, years away from deconstructing and reconstructing the notion of Hell, but somehow I knew the message of this sketch was horribly wrong. It was drenched in fear, written to make others feel guilty for not sharing the Gospel with their friends, and I'd already learned that associating fear and faith was a mistake.
In my youth, I'd attended an ex-brethren church with some die-hard Calvinists among the congregation, including a young man in the youth group who loved nothing more than to go on about the judgement of God and the fires of Hell. On one occasion, he told us of his conversion, which had taken place at a church summer camp. The speaker was hammering his young audience about where they will stand with God 'at the sounding of the last trumpet', sowing fear into developing minds and warning them that if they hadn't made their choice by the time the trumpet sounded, they'd burn in Hell forever. From beyond the tent walls, the silence was rent by a long trumpet blast, which scared the chap from my youth group into 'giving his life to God'.
When faith gets wrapped up with fear, crystalline waters become muddied, because fear is a driver of destructive acts and judgement. Fear is not promoted as a spiritual quality by New Testament writers:
2 Timothy 1:7
For God gave us a spirit not of fear but of power and love and self-control.
1 John 4:18
There is no fear in love, but perfect love casts out fear. For fear has to do with punishment, and whoever fears has not been perfected in love.
Romans 8:15
For you did not receive the spirit of slavery to fall back into fear, but you have received the Spirit of adoption as sons, by whom we cry, "Abba! Father!"
John 14:27
Peace I leave with you; my peace I give to you. Not as the world gives do I give to you. Let not your hearts be troubled, neither let them be afraid.
I know what some will say – the fear of the Lord is the beginning of wisdom. I've written on this in a previous article, the conclusion of which is that while fear of the Lord might be the beginning of wisdom (our first comprehension of his enormity and power compared to our own), it is not its end. The mercy and goodness of God dispel any initial instinct to cower and grovel. God is for us, not against us.
For hundreds of years, the early Christian church were largely universalist (believing the salvation of Jesus would ultimately lead to the unification of all people and all things in Christ). This is an easy enough point of view to find in the Bible.
Luke 3: 4-6,
As it is written in the book of the words of Isaiah the prophet:
"A voice of one calling in the wilderness,
'Prepare the way for the Lord,
make straight paths for Him.
every valley shall be filled in,
every mountain and hill made low.
The crooked roads shall become straight, the rough ways smooth.
And all people will see God's salvation.'"
1 Corinthians 15:21-22,
For since death came through a man, the resurrection of the dead comes also through a man. For as in Adam all die, so in Christ all will be made alive.
2 Peter 3:9
The Lord is not slack concerning His promise, as some count slackness, but is longsuffering toward us, not willing that any should perish but that all should come to repentance.
1 Timothy 2:3–6
This is good, and pleases God our Savior, who wants all men to be saved and to come to a knowledge of the truth. For there is one God and one mediator between God and men, the man Christ Jesus, who gave Himself as a ransom for all men.
1 John 2:2
He is the atoning sacrifice for our sins, and not only for ours but also for the sins of the whole world.
Romans 5:18-19,
Consequently, just as one trespass resulted in condemnation for all people, so also one righteous act resulted in justification and life for all people.
Romans 11:32
For God has bound all men over to disobedience so that He may have mercy on them all.
How great is the sacrifice of Christ? How good is the Good News? It is my firm belief that through the sacrifice of Jesus, all will ultimately be saved. I've written another article on this, should anyone wish to delve deeper into the topic.
My heart breaks for fellow believers whose loved ones have passed away without finding faith, because the Gospel is the worst news ever for them if their doctrine is that their loved one will burn in Hell forever. There is no version of the Gospel that is truly good news unless salvation is for all. We need to move away from the heaviness of reformed belief and re-find Jesus, the Savior of the world.
The worst consequence of fear is that it keeps us from the kind of closeness with God he yearns for us to know. How can you draw near to a God you're frightened of? When I linger in the presence of the Lord, surrounded by and filled with his power, it is his love that anchors me safely in place. My prayer for 2023 is that every reader who is ready to do so will take steps away from fear and discover more of the complete acceptance of God.
If you feel led to support me in this ministry, please make a pledge through Patreon.
1/9/2023 10:33:13 PM