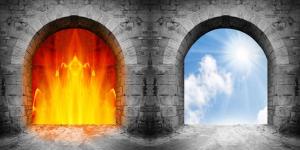 Universalism is often cast aside without consideration in the Evangelical movement, rejected as heretical or unsound without proper examination. Personally, I have found universalism to be demonstrably Biblical, a solution to an array of theological problems, and an acknowledgement of what all believers know deep down – that God is good. We know it in our bones when we worship, but our thinking can be much less clear. In this post, I'm going to show how universalism can be drawn directly from the Biblical narrative.
Universalism in the Old Testament
Before the Sinai Covenant, when the Law was delivered through Moses, God made a prior covenant with Abraham. Unlike the Sinai Covenant, which served a temporary purpose, the Covenant of Abraham is yet to be fulfilled in its entirety and is still a live and active promise, underpinning God's relationship with the entire world. Specifically, the Lord promised to Abraham in Genesis 22: 16-18,
"I swear by myself, declares the Lord, that…through your offspring all nations on earth will be blessed."
Importantly, the Abrahamic Covenant is sworn between God and himself. There is no human element, the failure of which would result in the promise being revoked. It is an unconditional promise which finds its fulfilment in Jesus, a descendant of Abraham, and through the Gospel, which extends the grace of Jesus to all peoples of the Earth.
From the very first of the Hebrew Covenants then, the promise of God was inclusive rather than exclusive. He never intended his interaction with humankind remain within Judaism, but that through the Jewish Messiah (Jesus), all people everywhere be included in his plan of salvation.
Universalism in the New Testament
The trajectory which begun with God's promise to Abraham is built upon in the New Testament, which is littered with scriptures that speak of the salvation of all people:
Luke 3: 4-6,
As it is written in the book of the words of Isaiah the prophet:
"A voice of one calling in the wilderness,
'Prepare the way for the Lord,
    make straight paths for him.
Every valley shall be filled in,
    every mountain and hill made low.
The crooked roads shall become straight,
    the rough ways smooth.
And all people will see God's salvation.'"
1 Corinthians 15:21-22,
For since death came through a man, the resurrection of the dead comes also through a man. For as in Adam all die, so in Christ all will be made alive.
2 Peter 3:9
The Lord is not slack concerning His promise, as some count slackness, but is longsuffering toward us, not willing that any should perish but that all should come to repentance.
1 Timothy 2:3–6
This is good, and pleases God our Saviour, who wants all men to be saved and to come to a knowledge of the truth. For there is one God and one mediator between God and men, the man Christ Jesus, who gave himself as a ransom for all men.
1 John 2:2
He is the atoning sacrifice for our sins, and not only for ours but also for the sins of the whole world.
1 Timothy 4:10
For to this end we toil and strive, because we have our hope set on the living God, who is the Saviour of all people, especially of those who believe.
Romans 5:18-19,
Consequently, just as one trespass resulted in condemnation for all people, so also one righteous act resulted in justification and life for all people.
Romans 11:32
For God has bound all men over to disobedience so that he may have mercy on them all.
The ultimate intention of God
Some might be reading this and realising they've never noticed these many references to universal salvation before. Others might be scrambling to explain why these verses don't mean what they plainly state. When it comes to understanding the scriptures, there is much in plain sight which we do not see. In part this is due to confirmation bias – we've been told how to interpret these verses and so never pause long enough to see them a different way, even when the meaning is obvious.
In Ephesians 1:8-10, Paul writes of the ultimate intention of God:
With all wisdom and understanding, he made known to us the mystery of his will according to his good pleasure, which he purposed in Christ, to be put into effect when the times reach their fulfilment – to bring unity to all things in heaven and on earth under Christ.
This is the dream, the goal, the intent of God – to bring all things into unity in Christ. This is the whole point and purpose of the Gospel.
In this respect, Philippians 2:10-11, gives us something to look forward to:
So that at the name of Jesus every knee should bow, in heaven and on earth and under the earth, and every tongue confess that Jesus Christ is Lord, to the glory of God the Father.
In the end, we will all worship Christ.
Paul didn't draw this idea out of thin air. It is present in the Old Testament prophecy of Isaiah (chapter 45, verse 23):
'By myself I have sworn; from my mouth has gone out in righteousness a word that shall not return: 'To me every knee shall bow, every tongue shall swear allegiance.'
Not convinced yet? Here are a few more scriptures to help:
Revelation 5:13
And I heard every creature in heaven and on earth and under the earth and in the sea, and all that is in them, saying, "To him who sits on the throne and to the Lamb be blessing and honour and glory and might forever and ever!"
John 12:32
"And I, when I am lifted up from the earth, will draw all people to myself."
Colossians 1:20
And through him to reconcile to himself all things, whether on earth or in heaven, making peace by the blood of his cross.
Let's be frank – it's everywhere! So why is this not commonly understood in the Evangelical movement, which claims to esteem the Bible?
One of the biggest obstacles to accepting these scriptures on their own terms is a belief in Hell as a place of perpetual torment. I want to let universalism stand as the focus of this piece, so will deal with Hell properly in a follow-up post.
Universalism has been seen as the ultimate intention of God by important figures and movements throughout church history, including such notables as Origen of Alexandria, a major figure in 3rd century Christianity. Even the great reformer, Martin Luther, believed that grace extended beyond the grave, and we would have further chances to respond to it (during the process of judgement).
Why does this matter?
In my opinion, universalism is the only interpretation of the Gospel which doesn't make a mockery of the goodness of God. Are we really expected to have a party in Heaven while people we know and love scream and burn without relief? Would the Gospel really be good news, if it means that the majority of people God created will be lost to eternal damnation? Surely that would make the Gospel the worst news of all!
Universalism, on the other hand, sees the inclusive vision of God, understands that salvation is through the cross, but grasps the glorious extent of that salvation. It states that grace is broader, richer and more powerful than many have dared to believe.
So why am I only 'almost' a universalist? The semi-skinned rather than the full fat version? Because of free will. Free will was the crowning glory of humanity, and part of what it means to be made in the image of God. We've made an awful mess of things, but without free will, human beings would not be who we were created to be. I have to concede then that some might pass through death, see God for who he is, understand that grace is still available and yet refuse to yield. It's hard to imagine or understand, but I have to accept that as a possibility. I have no idea what happens to such people, and am content to live with a question mark. We don't need to have the answers to every question to be satisfied in our faith, or to serve God well.
Given that you now have a scriptural basis for universalism (I hope), will you continue to believe in the eternal torment of most, including your own loved ones, or will you accept what scripture states, and understand that God has always intended to include? How good is your good news?
Universalism has enabled me to be even more grateful for the cross and to draw closer to God, knowing he would never harm me or those I love. It has rid me of cognitive dissonance that threatened to sink my faith, and filled me with joy about the goodness of God. Honestly, I've never looked back.
Next time, Hell…
(If you've found this helpful, please sign up for my newsletter on the top right of the page, and share on social media).