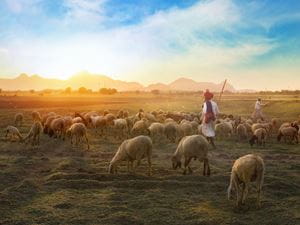 Kailash Kumar/Pexels.com
I've been meditating on the words of Jesus in John chapter 10 today, marveling at the heart of God towards those made in his image. Jesus paints a picture of a profoundly unified state between himself as the Good Shepherd and us as his sheep. Verses 2-5:
But he who enters by the door is the shepherd of the sheep. To him the doorkeeper opens, and the sheep hear his voice; and he calls his own sheep by name and leads them out. And when he brings out his own sheep, he goes before them; and the sheep follow him, for they know his voice. Yet they will by no means follow a stranger, but will flee from him, for they do not know the voice of strangers.
The sheep will not follow a stranger, for they know not his voice. This speaks to me of the intimate connection between Christ and his followers – that knowledge of his presence, his voice, his leading. Think of those moments when he called his first disciples and they instantly knew him as Lord, leaving behind their lives and possessions to follow him. His sheep know his voice.
It is not just the identity of the Lord and his right to lead us (along with our willingness to follow) that is beyond question – it is the devotion of the Good Shepherd towards those he protects. Verse 10:
The thief does not come except to steal, and to kill, and to destroy. I have come that they may have life, and that they may have it more abundantly.
The intention of Jesus towards you and I is that we have life, and have it in abundance. This is the song in the heart of God, but he goes way beyond longing for our fruitfulness. Verse 11:
I am the good shepherd. The good shepherd gives His life for the sheep.
Jesus' calls, leads, protects, and lays down his life for his sheep. His heart is fundamentally for us, and more than that, he attributes this attitude to the deep connection between himself and the Father, and himself and us. Verse 15:
As the Father knows Me, even so I know the Father; and I lay down My life for the sheep.
Christ knows us and is known by us, and Christ knows the Father and is known by the Father – it is this deep, intimate knowledge that underpins our relationship with him, and his willingness to lay down his life for the sheep. He will do anything for us, and indeed has given it all.
Let's pause a moment on this idea of connectedness being the heart of our relationship with God. John 14:23,
Anyone who loves me will obey my teaching. My Father will love them, and we will come to them and make our home with them.
Anyone who loves Jesus will obey his teaching (to love God and each other with all our hearts, minds, soul, and strength). The person who immerses themselves in and is driven by love will know the love of the Father, who, by the indwelling Holy Spirit will make his home with them. These are deep, personal promises of a completely unified connection with God.
I remember praying earnestly one time in my early twenties. I was seeking God, and though I was blessed by tremendous encounters from time to time, something was still missing. I couldn't put it into words; I wanted something that I couldn't quite grasp and so prayed for hours, trying to identify the longing.
It erupted from me in a shout – "LET US BE ONE!"
That was what I wanted – complete unity, no space between us, just pure, divine connection. Synchronized breathing, in and out. I'm not going to claim this has been my experience ever since, but something changed in that moment, and a consistent experience of yearning morphed into an oasis of lasting contentment and joy in God's presence. I no longer feared losing him, drifting from him, or drying up spiritually. How could I? He had made his home in me, and knows me as he knows Christ, according to the Bible. He couldn't disown me without disowning himself – so personally does he commit to each of us.
Not only did I understand what it means to be known by and to know God in that moment, but I was drawn back to the heart of God – the Good Shepherd lays down his life for his sheep. He has got our backs in every way, including the salvation of our souls!
This energy of intimacy and connection, of deep knowledge and interaction with the divine, is the promise and intention of God for us. He is not monitoring us from a distance, eager to find fault and punish. He is profoundly connected with and invested in us, will defend us, and has even laid down his life for us. We should not see God as a tyrant, as distant or remote, or as obsessed with sin or guilt. He dealt with sin to set us free – end of story. We are his prize, and our freedom is his joy. We are 'the joy set before him', and may we never forget it.
What is your image of God like? Do you feel confident asking for blessing or provision? Do you have to feel ashamed of yourself to then feel forgiven? I was brought up with a heavy image of God, more akin to Moses' experience than that of New Testament believers, but I am no longer confused. Hebrews 12:18-24 speaks of the contrast between relating to God through the Sinai Covenant (righteousness by law) and through the Covenant of Christ (righteousness by grace):
You have not come to a mountain that can be touched and that is burning with fire; to darkness, gloom and storm; to a trumpet blast or to such a voice speaking words that those who heard it begged that no further word be spoken to them, because they could not bear what was commanded: 'If even an animal touches the mountain, it must be stoned to death.' The sight was so terrifying that Moses said, 'I am trembling with fear.'
But you have come to Mount Zion, to the city of the living God, the heavenly Jerusalem. You have come to thousands upon thousands of angels in joyful assembly, to the church of the firstborn, whose names are written in heaven. You have come to God, the Judge of all, to the spirits of the righteous made perfect, to Jesus the mediator of a new covenant, and to the sprinkled blood that speaks a better word than the blood of Abel.
My prayer for all of us this Christmas, as we draw near to that baby in a manger, is that we hear not the trumpet blast of Sinai, but instead know that we approach the Good Shepherd who lays down his life for his sheep.
If you want to support me in this ministry, please go to my Patreon page and make a pledge.
12/14/2022 5:46:35 AM