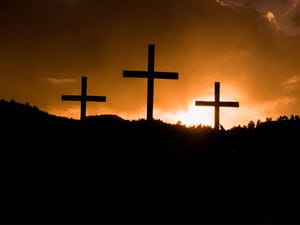 Lightstock
As we say, "No" like Jesus, we must say, "No" to self-importance. We then learn how the way down is the way up through the example of Jesus in Philippians 2.
Jesus Humbled Himself in His Crucifixion (Philippians 2:8)
Although Jesus was the Son of God himself, he was born as a man so that he could die as a man: "And being found in human form, he humbled himself by becoming obedient to the point of death, even death on a cross" (Philippians 2:8). Jesus did not become a man just so he could see what life was like on earth, but so that he could die for sinners on a cross and "give his life as a ransom for many" (Mark 10:45b). Yet why would Jesus do that? Why was it necessary for him to die?
Suppose you are a kid playing baseball and you hit the ball a little too hard such that it shatters your neighbor's window into a million tiny pieces. What do you do? You know it's your fault, so you feel terribly guilty. You can't put the pieces back together no matter how hard you try. In desperation, the tears begin to flow down your face. Then, to make matters worse, your neighbor walks over with a bill: "Hey kid, you just broke my window. That'll be $500 hundred dollars, please."
"But sir, I don't have that kind of money. I can't repay it."
"Then you must work in my yard until you can pay off your debt. We'll start by mowing the lawn."
Here is the problem. You did something wrong and broke the rules. Your actions require that a price must be paid, yet you cannot pay that costly price. You are unable to "save" yourself.
Now suppose your neighbor says to you instead, "You broke my window and it will cost money to fix, but I know a man who will pay the price for you. He will sacrifice, so that you need not pay." Would you take that offer and how grateful would you be to the man who saved you?
This is what Jesus has done for us when we broke his Father's rules. We are all sinners because every one of us has broken God's commands (Romans 3:23). And because of sin, we are all deserving of death (6:23a). The cost is much more than $500 because sin is much more serious than a shattered window. Sin is an offense against an infinitely holy God and demands an eternal punishment. He could not simply shout from heaven, "Your sin is forgiven. Don't worry about it. You're covered." Sin was so serious that Jesus had to become human like us. He had to humble himself and die in our place. The sacrifice had to be a life for a life. Thus, "for our sake [God] made him to be sin who knew no sin, so that in him we might become the righteousness of God" (2 Corinthians 5:21).
Application Insight: The good news of Jesus Christ fills you with gratitude and teaches you how to humbly sacrifice for others as well. You can say "No" to self over little things because Jesus said "No" to self over the greatest things. Jesus forgave your sin and saved you from eternal death, so how can you withhold kindness from your brother (see Matthew 18:21-35)
Jesus Received Glory in His Exaltation (Philippians 2:9-11)
Jesus died as a man to save us from sin, yet there is still more to this good news. After Jesus died, the Bible says that three days later he rose from the dead. As Paul writes, "For I delivered to you as of first importance what I also received: that Christ died for our sins in accordance with the Scriptures, that he was buried, that he was raised on the third day in accordance with the Scriptures" (1 Corinthians 15:3-4). That's either true or it is not. The resurrection of Christ is either the most amazing miracle in history or the greatest hoax of all.
Application Insight: Those who do not believe in Jesus will find the resurrection hard to believe. A person might agree that they have done something wrong at least once in their life. They might admit that if an infinitely holy God exists, then even one sin is deserving of an eternal death. They might also believe that Jesus was a historical person who died on a Roman cross as recorded in the Bible. Yet they may find it fantastically hard to believe that three days later, he rose from the dead. Belief in the resurrection sets Christians apart as people of faith. Accepting this truth changes everything!
Paul then concludes in Philippians 2:9-11, "Therefore God has highly exalted him and bestowed on him the name that is above every name, so that at the name of Jesus every knee should bow, in heaven and on earth and under the earth, and every tongue confess that Jesus Christ is Lord, to the glory of God the Father."
Application Insight: One day, every person will honor Jesus whether they believed in him on earth or not. Every person will bow their knee to the King of kings and declare him as Lord and Christ. That multitude includes even those who do not believe in him today.
We see a tiny glimpse of this at the very first Christmas when the angels in heaven called upon shepherds to worship the Christ child:
And in the same region there were shepherds out in the field, keeping watch over their flock by night. And an angel of the Lord appeared to them, and the glory of the Lord shone around them, and they were filled with fear. And the angel said to them, "Fear not, for behold, I bring you good news of great joy that will be for all the people. For unto you is born this day in the city of David a Savior, who is Christ the Lord. And this will be a sign for you: you will find a baby wrapped in swaddling cloths and lying in a manger." And suddenly there was with the angel a multitude of the heavenly host praising God and saying, "Glory to God in the highest, and on earth peace among those with whom he is pleased!" (Luke 2:8-14).
Those shepherds sought out the baby boy (vv. 15-16): "And when they saw it, they made known the saying that had been told them concerning this child" (v. 17). They told everyone the angels' message. "And all who heard it wondered at what the shepherds told them. But Mary treasured up all these things, pondering them in her heart. And the shepherds returned, glorifying and praising God for all they had heard and seen, as it had been told them" (vv. 18-20). These shepherds were ordinary people like us, yet they were the first to worship the baby Jesus.
Then, there was old Simeon in the temple: "He took him up in his arms and blessed God and said, 'Lord, now you are letting your servant depart in peace, according to your word; for my eyes have seen your salvation that you have prepared in the presence of all peoples, a light for revelation to the Gentiles, and for glory to your people Israel'" (vv. 28-32). Many, like Simeon, have faithfully fixed their eyes on the Lord's salvation and have worshipped him as the promised Messiah. Consider also devoted Anna: "And coming up at that very hour she began to give thanks to God and to speak of him to all who were waiting for the redemption of Jerusalem" (v. 38). Like Anna, many possess a love for the Lord which grows continually stronger as they walk with him by faith.
Finally, the wise men from the east traveled from a far distance: "When they saw the star, they rejoiced exceedingly with great joy. And going into the house they saw the child with Mary his mother, and they fell down and worshiped him. Then, opening their treasures, they offered him gifts, gold and frankincense and myrrh" (Matthew 2:10-11). Although they themselves were kings, they bowed humbly before King Jesus.
All these worshipped the baby Jesus even before he was revealed as the King of kings. They caught a glimpse of his promised glory and knew a portion of his greatness. In like manner, every knee across the universe will one day bow and every tongue confess that Jesus Christ is Lord.
Application Insight: The greatest gift you can ever receive is to believe in Jesus. For the Christmas story is not just a story to entertain, but rather one to change your life. Jesus himself said that you must become like a child to believe in him (Luke 18:17), for the choice is simple: Either you are a sinner and a sufferer in need of a Savior or you are not. Either the Son of God became a man or he did not. Either he died on a cross and rose again or he did not. Either he will reign in glory forever or he will not. The choice is yours, but the choice is for eternity. Will you declare, "Glory to God in the highest" and confess Jesus as your Lord and Savior? Will you receive this gift of Jesus today?
Life Application Study:
1. What does the Bible tell you heaven is like? Consider all the glories Jesus had to sacrifice in order to become a man.
2. How did Jesus suffer during his life on earth? How does the knowledge that Jesus knows your suffering bring comfort?
3. Why was it necessary for Jesus to come and die? Why couldn't he just forgive us from the safety of heaven? Praise God today for the glories of salvation.
4. Read Luke 2 and Matthew 2 and identify the people who saw Jesus as a King. Identify those who did not. Which kind are you most like?
12/15/2022 7:07:46 PM