Notice anything different?
Since its launch in 2009, Patheos has grown from a modest start into the largest independent website for religion and spirituality. Over 2 million people from all over the world visit each month, and authors from nearly every angle of the religious world contribute their perspectives. With this steady infusion of new writers and readers, we felt it was time to make the rich material on the site more accessible, more integrated, and easier-to-use.
With this in mind, we've completely rebuilt and relaunched the site. You'll see a facelift on our homepage, blogs, channels, and library. You'll notice a series of tools that will help you find what you're looking for, be introduced to new content, and share with others what you find moving, inspiring, or thought-provoking.
Rest assured that nothing you enjoy about Patheos has changed. Your favorite writers are all still here, and now they're easier to find, friend, and follow. Chances are good that you'll discover many more to read and enjoy. Exploring the entire site is now a more intuitive process as well.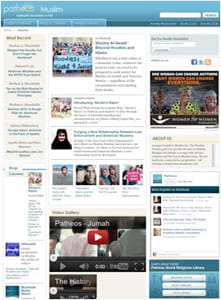 Redesigned Channel Pages
The Channel pages (like the Catholic Channel, or the Muslim Channel) continue to be vital communities of different faith traditions. They have been enhanced with a rich array of resources for the curious, the student, and the faithful. On these pages you'll find news, blogs, and columns from that faith perspective, and each channel will continue to add videos, images, links, and articles to complement that faith perspective. The Channels are the place to learn about, explore, and engage with people from your own faith and with those of others.
Redesigned Blog Pages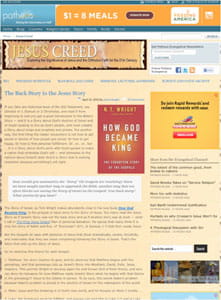 Patheos bloggers are some of the most widely read authors on religion and spirituality in the world. To help you navigate the myriad possibilities, we've updated the design on blogs and added a menu bar. If you're on an Evangelical blog, for instance, just look up at the menu (below the Patheos logo) and you can find more writers by clicking the "Evangelical Channel" button ) or the breadcrumb just below.
Or, on the right side of the blog, check out the latest headlines in the "More from the Patheos Evangelical Channel" feature. And don't forget about our growing number of Facebook and Twitter pages for individual faiths at the top right of the page!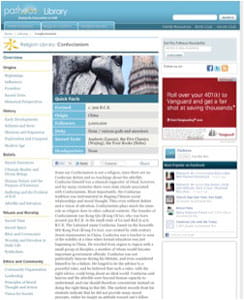 Redesigned Library Pages
One of Patheos' distinctive elements is our Library. Written by scholars and experts in the field, and peer reviewed by another cadre of experts, this is a great place for you to learn more about your own faith or discover the origins, history, beliefs, rituals, and community life of other faiths. Daily world events commonly include religious angles -- do you know what the newsmakers believe and why? Check it out!
Patheos is hosting the online conversation on religion, faith and, spirituality, and as with any conversation around deeply held ideas, you'll always find something to agree with, something to disagree with, and particularly, something to learn from or be inspired by. We invite you to discover new writers, enjoy videos and slide shows, dig into the fascinating Religion Library, and, follow more closely the broad and captivating conversation on faith.
Browse the site and see what's new. We hope you like what you find. Let us know what you think.
Thanks for reading,
Team Patheos
5/6/2021 4:12:58 PM