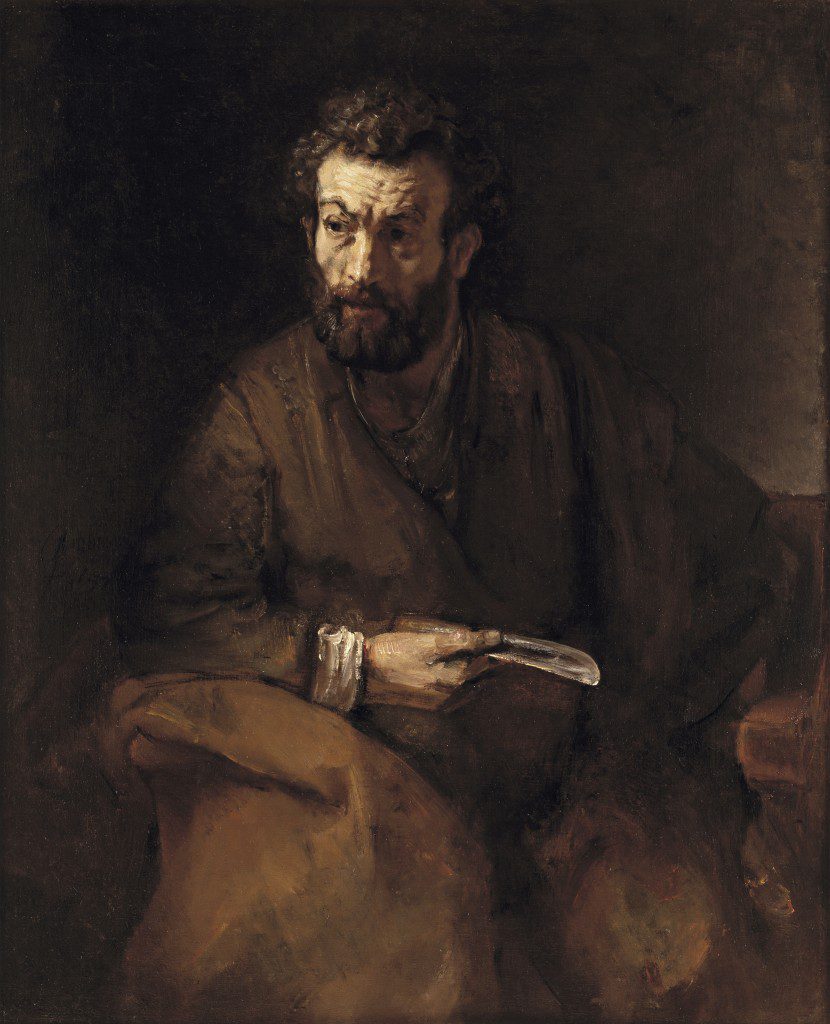 St. Bartholomew
by Rembrandt van Rijn
Perhaps it is time for us to reflect on St. Bartholomew. For just a moment. Given what is happening in the world, I would argue that it is a perfect time. Selfishly, it is appropriate because Bartholomew serves as the patron saint of my home parish. And, on a larger scale, the Catholic Church just celebrated his Feast Day on August 24th. But perhaps the execution of journalist and devout Catholic James Foley should call to mind just who St. Bartholomew was and precisely what he did.
Bartholomew appeared briefly on the stage very early in the ministry of Christ. Bartholomew, known also as Nathanael, found himself hastily approached by his friend Philip with some extraordinary news. Philip had met a man unlike any other.
 "We have found the one about whom Moses wrote in the law,
and also the prophets, Jesus son of Joseph, from Nazareth."
But Nathanael said to him,
"Can anything good come from Nazareth?"
Philip said to him, "Come and see."
Jesus saw Nathanael coming toward him and said of him,
"Here is a true child of Israel.
There is no duplicity in him."
Nathanael said to him, "How do you know me?"
Jesus answered and said to him,
"Before Philip called you, I saw you under the fig tree."
Nathanael answered him,
"Rabbi, you are the Son of God; you are the King of Israel."

– John 1:45-49
This is an extraordinary exchange. And if casually passed over, its import is lost completely. Philip was a great judge of character. He recognized the incomparable figure of Christ and wanted to introduce Him to Bartholomew, a friend of great integrity. After a light-hearted joke about people from Nazareth, Bartholomew finds himself standing before Jesus. And Jesus pays him the highest of compliments. God Himself calls Bartholomew genuine and true. Taken aback at this praise issued by someone he just met, Bartholomew is stunned to find that this same man "saw" him in his most private, intimate, prayerful moments under the fig tree. And how did Bartholomew respond? With characteristic honesty and bluntness: He called Christ exactly what He was – the Son of God, the King of Israel. This is one of the earliest testimonies to Jesus' Divine and Messianic status.
Bartholomew remained as one of the twelve disciples following Jesus for three years and learning from Him. After the Ascension of Christ, Bartholomew is believed to have traveled to and evangelized in India, modern day Iraq, Iran and Armenia. After successfully converting the King of Armenia to Christianity, the King's angry brother would have Bartholomew executed. But that is not all. First, Bartholomew would be viciously flayed (skinned) alive and then he would be either beheaded or crucified upside-down.
Now let us move forward to the twenty-first century.
James Foley was a journalist and devout Catholic called to report in terribly dangerous regions. Iraq, Afghanistan, Libya and Syria were just a few of the harrowing assignments he sought and accepted. In 2011, he was detained in war-torn Libya where he spent 44 uncertain days in captivity. Later, for his college alumni magazine, he would write how his faith sustained him during dark and distressing hours,
"I began to pray the rosary. It was what my mother and grandmother would have prayed. 
I said 10 Hail Marys between each Our Father. It took a long time, almost an hour to count 100 Hail Marys off on my knuckles. And it helped to keep my mind focused.

[My colleague] Clare and I prayed together out loud. It felt energizing to speak our weaknesses and hopes together, as if in a conversation with God, rather than silently and alone."
In a further interview, David McKay Wilson would relay another chapter of faith during James Foley's Libyan imprisonment,
"[While languishing in the Tripoli jail] there came a knock on the wall of his jail cell. Foley put his ear near a wall socket and heard the muffled voice of a detained American contractor reading from the Bible and asking him to join in prayer.

'In a very calm voice, he'd read me Scripture once or twice a day,' recalls Foley. 'Then I'd pray to stay strong. I'd pray to soften the hearts of our captors. I'd pray for God to lift the burdens we couldn't handle.

And I'd pray that our moms would know we were OK.'"
Once released, Foley would return to Libya and ultimately Syria to cover the violent civil war then unfolding. However, less than eighteen months after being released from a Libyan prison, James Foley was kidnapped in Syria. Bartering would ensue between militia groups and Foley would end up in the hands of ISIS (the Islamic State in Iraq and Syria, now known as the Islamic State). Demands for ransom money and a failed covert rescue attempt would lead to a ghoulish desert scene of a shorn man in an orange jumpsuit held at knifepoint by a black-clad, masked jihadist of the Islamic State. It would be the last time James Foley would be seen alive.
Now, I am not calling James Foley a saint. And others can debate whether he should be called a martyr. But what I do know is that James Foley, like St. Bartholomew, believed in God. In times joyous as well as in times desperate, he believed in God. His story, like St. Bartholomew's, reminds us that God is not God simply in times of comfort, but also in times of sheer terror, utter hopelessness and overwhelming despair. This is terribly hard to grapple with.
Flannery O'Connor reminded us that,
"What people don't realize is how much religion costs. They think faith is a big electric blanket, when of course it is the cross."
And G.K. Chesterton prompted,
"Faith means believing the unbelievable. Hope means hoping when everything seems hopeless."
And Hans Urs von Balthasar keenly observed,
"When one surveys even from a distance how often and how openly Sacred Scripture speaks of fear and anxiety, an initial conclusion presents itself: the Word of God is not afraid of fear or anxiety."
You see, St. Bartholomew, in spite of seeing the vicious torture and death that fell upon his Lord, knew what he had to do…and did it. In spite of fear and anxiety and despair and pain, he traveled to far flung places, faced incredible difficulties and ultimately suffered grievously.
James Foley was a journalist. But he sensed a call to tell a story and to risk his life doing it. And while he told his story – while he suffered for his story – he found the soothing words of a Rosary, the holy words of Scripture heard through a wall socket, and the earnest prayer intentions shared with a fellow prisoner to be sources of hope in a hopeless situation.
We know the ugly truth of what came next. James Foley was beheaded. St. Bartholomew was flayed and crucified (or beheaded). But there is one thing to seriously consider. Their suffering, while extreme, is now over. And as we mourn these terrible ends, we should be assured that they are not in fact "ends" after all. Suffering was a part of their lives – shockingly so – but it was not their life. Their lives were directed toward greater purposes that outstrip any devilish attempt to subjugate and destroy. Suffering is temporary. Heaven is eternal.
That is why it is a good time to reflect on St. Bartholomew. One look at Rembrandt's painting reminds us of this truth: the eternal Heaven that awaits and dwarfs all earthly loss. St. Bartholomew's hand is firmly fixed on the instrument that would soon torture him. His brow is furrowed with concern of the suffering to come. He knows. Yes, he knows. But his eyes are fixed – so very fixed – on the light. And they will never, ever look away.