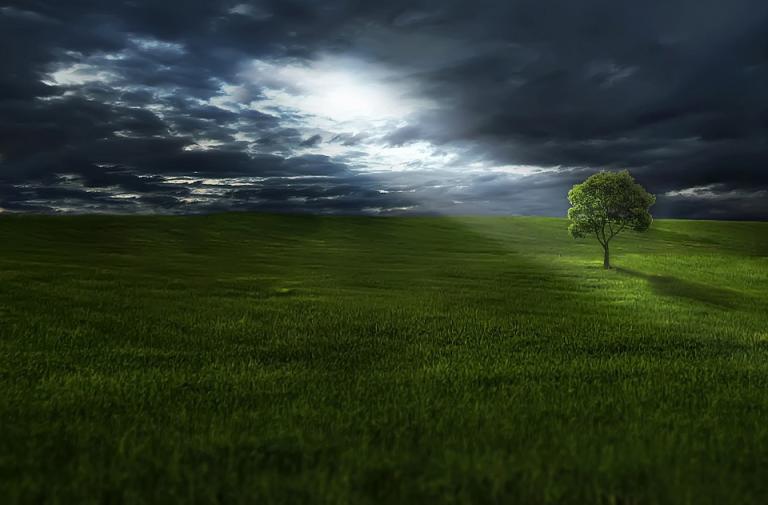 I see it sometimes…when others don't.
Of course, this is likely because it is in my mind's eye.
Oh, at times it is an Irish pub ensconced in some craggy hilltop accessible, albeit not easily, by a rough climb along paths cheered by wind-blown heather. Other times, it is a cherry-wooded cottage library, shelves teeming with petite classic works, looking out upon warm, dense woods while the heavy door is closed but for moments to impart wisdom or share poignant exchanges with family and friends. And, still at other times, it is a European cathedral or art museum where, grasping my daughters' young hands and glancing at my beautiful wife, we discuss an eternal Truth captured in the masterpiece upon which we have fixed our gaze.
And then, suddenly – I'm back.
These are my daydreams.
Oh, don't get me wrong, I have a wonderful life, although a bit busy. A wonderful marriage filled with love, laughter and conversation. An extraordinary pair of daughters with adventures and goofiness and deep conversations mixed in with school, soccer, dance and dinners. A robust faith community with rich opportunities to worship, learn and teach. And I have a medical practice of incredible patients – who, inevitably, become friends – and unparalleled colleagues collectively working not only to help people along their life's journey, but to form medical students and residents into bright, conscientious physicians.
I am happy.
But I still daydream. I still long to get away.
And my daydreams take me to where I have time, to where I am surrounded by the ones I love, to where I can ponder and discuss the permanent things of life, to where I can simply be myself – at ease, no pretense, as God made me – warts and all.
When I was in fourth grade, my teacher was Mrs. Duffy. She was elderly by the time I arrived in her class. With a limp thanks to childhood polio and lips caked with bright red lipstick, one could expect that she was a bit old-school. And she was – vibrant, lights-on, "believe-in-you-more-than-you-believe-in-yourself" old-school. In that rickety small town Iowa classroom, we were asked to memorize and solitarily stand beside our desk while reciting Robert Frost's Stopping By Woods on a Snowy Evening.
Whose woods these are I think I know.
His house is in the village though;
He will not see me stopping here
To watch his woods fill up with snow.

My little horse must think it queer
To stop without a farmhouse near
Between the woods and frozen lake
The darkest evening of the year.

He gives his harness bells a shake
To ask if there is some mistake.
The only other sound's the sweep
Of easy wind and downy flake.

The woods are lovely, dark and deep,
But I have promises to keep,
And miles to go before I sleep,
And miles to go before I sleep
Though nervous at the time about the prospect of humiliation and not fully comprehending Frost's words, I have never forgotten this poem. It has meant something increasingly deep and rich at succeeding steps along my life's path. And it now is one of the venues of my daydreams. It is a place of safety and peace.
Recently, my friend Elizabeth Scalia posted W.B. Yeats' entrancing poem, The Lake Isle of Innisfree and, I am ashamed to admit, it was the first time I had ever read it. But the reaction many people had to her post made clear that this poem was perhaps assigned to them by their respective Mrs. Duffys. And it had a similar impact.
I will arise and go now, and go to Innisfree,
And a small cabin build there, of clay and wattles made;
Nine bean-rows will I have there, a hive for the honey-bee,
And live alone in the bee-loud glade.

And I shall have some peace there, for peace comes dropping slow,
Dropping from the veils of the morning to where the cricket sings;
There midnight's all a glimmer, and noon a purple glow,
And evening full of the linnet's wings.

I will arise and go now, for always night and day
I hear lake water lapping with low sounds by the shore;
While I stand on the roadway, or on the pavements grey,
I hear it in the deep heart's core.
I read this poem and I feel a longing. A bit of inexplicable homesickness, a mournful yearning. It, too, has become a place I visit in my daydreams.
In wrestling with the pang that comes from leaving these soothing vistas of my daydreams and returning to the worries and responsibilities of daily life, G.K. Chesterton has been a comfort. Perhaps my recourse to daydreams is for good reason.
"The modern philosopher had told me again and again that I was in the right place, and I had still felt depressed even in acquiescence. But I had heard that I was in the wrong place, and my soul sang for joy, like a bird in spring. The knowledge found out and illuminated forgotten chambers in the dark house of infancy. I knew now…why I could feel homesick at home." – G.K. Chesterton
And in feeling a twinge of inadequacy in daily reality, Hilaire Belloc would wisely add,
"For my part, I have travelled widely…altogether forty times – I have come back to the flats of my own country…Then indeed I have each time remembered my boyhood, and each time I have been glad to come home. But I have never found it to be a final gladness. After a time I must be off again, and find new places."
While C.S. Lewis would perhaps best crystallize this entire experience by reminding,
"If we find ourselves with a desire that nothing in this world can satisfy, the most probable explanation is that we were made for another world."
Yes. Yes. This seems about right.
My reality is glorious, but sometimes I find myself simply wanting to sit on my horse and contemplate the snowfall in someone else's woods, to go to the bee-loud glade at Innisfree, to be in that cathedral, that library or on that road to the Irish pub. And by knowing it is out there and releasing myself for mere moments (seconds, even) to spend time there, I sense the final gladness. And it is beautiful.
There is something humorous, yet deeply sublime that Hilaire Belloc penned in his immortal work on pilgrimage, The Path to Rome. He was passing through the charming French village of Flavigny when he made note of the French tendency to "furiously" craft local reviews "glorifying their native places."
"There was even a man (I forget his name) who wrote a delightful book called Popular and Traditional Songs of my Province, which book, after he was dead, was discovered to be entirely his own invention, and not a word of it familiar to the inhabitants of the soil. He was a large, laughing man that smoked enormously, had great masses of hair, and worked by night; also he delighted in the society of friends, and talked continuously. I wish he had a statue somewhere, and that they would pull down to make room for it any one of those useless bronzes that are to be found even in the little villages, and that commemorate solemn, whiskered men, pillars of the state. For surely this is the habit of the true poet, and marks the vigour and recurrent origin of poetry, that a man should get his head full of rhythms and catches, and that they should jumble up somehow into short songs of his own."
I like to think of those jumbled up songs formed from rhythms and catches as the product of this man's daydreams. And as he visited the places in his resulting poetry, he, in fact, found his way home in the midst of his homesickness. He tasted a bit of the final gladness. In the end, he visited and was visited by joy.
It is okay to be a bit homesick when you are home. It is understandable to be a bit ill at ease. We were not made for this place, but for another. This is not our final gladness. We can taste joy in our careworn lives, but can surely anticipate true bliss in the one to come.
Be still. Be patient. Be full of hope and joy.
Daydream a little.
Something wonderful is on its way.
—————————————–
Photo credit: Pixabay