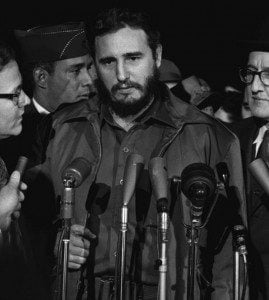 Fidel Castro, 1959
It has been a surreal week.
Fidel Castro, revolutionary, president and dictator of the island nation of Cuba, died at the age of ninety. Though failing in health by the time he stepped down in 2006, his iron grip remained. Having cultivated a successor in Raul, his eighty-five year old younger brother and a decades-old corrupt, ideological bureaucracy of cronies and criminals, Fidel Castro maintained an unspoken influence by the sheer fact that he continued to draw breath.
And how did the revolutionary wield his power?
Ruthlessly.
Running a Stalinist police state, Castro suppressed free speech, free assembly and due process of law. His regime was draconian in its treatment of religious leaders, journalists, intellectuals and political opposition with relentless harassment, interminable imprisonments, and summary executions. Castro's tight control of the media allowed his policies and appearances to be draped with shameless propaganda. In controlling the media and military power, Castro controlled the narrative.
And now he was dead.
But curiously, in the wake of this brutal dictator's death, we have seen relatively sophisticated, intellectual, seemingly well-intended leaders laud him.
President Jimmy Carter would tweet,
"We remember fondly our visits with him [Fidel Castro] in Cuba and his love of his country."
Civil Rights activist, Jesse Jackson noted,
"In many ways, after 1959, the oppressed the world over joined Castro's cause of fighting for freedom and liberation."
British Labour leader, Jeremy Corbyn would add,
"From building a world class health and education system, to Cuba's record of international solidarity abroad, Castro's achievements were many."
Irish President Michael Higgins would memorialize,
"Fidel Castro will be remembered as a giant among global leaders whose view was not only one of freedom for his people but for all of the oppressed and excluded peoples on the planet."
Ban Ki-moon, Secretary General of the United Nations would swoon,
"He was a strong voice for social justice in global discussions at the UN General Assembly."
And Ken Livingstone, former Mayor of London said
"Everywhere else in Latin America, small corrupt elites and dictatorships [ruled]. [Cuba] was a beacon of light, I think, to people all over Latin America."
Huh.
Meanwhile, the reports offered by Human Rights Watch & Amnesty International seem to run a bit counter to the eulogies of the opinion-makers.
"Castro's draconian rule and the harsh punishments he meted out to dissidents kept his repressive system rooted firmly in place for decades." –  José Miguel Vivanco, Americas director at Human Rights Watch

"However, despite these achievements in areas of social policy, Fidel Castro's forty nine year reign was characterized by a ruthless suppression of freedom of expression…The state of freedom of expression in Cuba, where activists continue to face arrest and harassment for speaking out against the government, is Fidel Castro's darkest legacy." – Erika Guevara-Rosas, Americas Director at Amnesty International
How can we explain this cognitive dissonance? How can we comprehend this tendency to excuse the inexcusable in the midst of paler accomplishments?
The common answer we are given is health care. Or education. Or the people rising up against a previous dictator named Batista. Or that he had the right ideas. Because, for some reason, a romanticized notion of universal health care or education or rebelliousness against the powers-that-be or simply fashionable ideas seems to trump basic civil liberties, fundamental dignity, or even life. This is cognitive dissonance at its most troubling.
But we have seen this before. And we will undoubtedly see it again. It is a blinding cloud of good intentions used to excuse horrific abuses.
Eric Hobsbawm was a celebrated and fashionable British Marxist historian who died in 2012 at age 95. Born the year of the Bolshevik Revolution, he would join the Communist Party in 1936 in the midst of the rising terror of Stalin's Purges. In Hobsbawm's eyes, there was a clear moral imperative and historical inevitability to what Communism represented and enacted. After more than seventy-five years of adherence to and evangelization of the Communist/Socialist creed, one would think that Hobsbawm would have reckoned with the critical questions of his creed (as we are all called to do if our creed is worth the devotion of our lives). Surely, the trap of cognitive dissonance (the defense of the indefensible in the name of a "greater good") would be avoided, if not struck down by this august intellectual.
You would think.
But in 1994, Hobsbawm was interviewed by Canadian academic and politician Michael Ignatieff. Here is what was said,
Michael Ignatieff:
"What that comes down to is saying that had the "radiant tomorrow" [the hoped for Communist paradise] actually been created, the loss of fifteen or twenty million people might have been justified."

Eric Hobsbawm:
"Yes."
I would reason that if you think, I mean really, honestly think about this exchange…you would be deeply troubled. And no wonder. A bright dream of the future built on the blood of millions does not remain a bright dream. It is a blood-soaked nightmare. Universal education or health care built upon broken bodies, shattered families and death is not justifiable. Period. And if the critics lazily or ideologically overlook Castro's tortures, imprisonments and murders while emphatically & scrupulously condemning American water boarding, Wall Street excesses and voting irregularities, then there is serious cognitive dissonance indeed.
How shall we remember Fidel Castro?
As Christ said,
"By their fruits you will know them. Do people pick grapes from thornbushes, or figs from thistles?
Just so, every good tree bears good fruit, and a rotten tree bears bad fruit."
Fidel Castro is dead. But his regime lives on.
As Catholics, we are called to pray for the souls of his victims, for the people under his oppressive regime, for a change of heart among Cuba's current leadership and for the soul of Fidel Castro.
May God bless Cuba.
—————–
Photo Credit: Wikimedia Commons