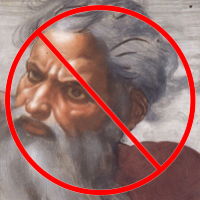 Nietzsche, famously or infamously towards the end of the nineteenth century, declared the death of god.  All of us pushing the twenty-first century forward can roll our eyes and concede that Nietzsche didn't see a century in which god would be so very much alive.  If nothing else, the increasing apoplexy of the new atheists attests to god's ongoing existence, if not god's burdensome omnipresence.
God is alive and active in humanity's world.  Clearly, whatever Nietzsche's reasoning, god's not going to die.
We're going to have to kill him.
At least, this is the demand of Bernard Martin, a pastor, theologically trained in Lausanne and Paris, and serving as god's representative, a half century ago, at a mental hospital in Geneva.  Writing a tiny book in 1964, this man of faith insisted:
It is necessary to kill God!! (19)
Martin is passionate, earnest, and sincere about killing god, if also a little afraid.  Killing god is an intimidating task.
It is painful to have to kill God.  I am afraid to kill him. (20)
Nevertheless, his resolve is fixed.
I must acquiesce in killing the God of my faith. (20)
Martin seems motivated by several grave concerns, not the least of which is the bad behavior of his church.
He sincerely loved his church…
Martin writes of himself in the third person,
But, precisely because of this deep attachment, he was reluctant to see its faults…. What most distressed him…was that unbelievable moralism that had penetrated and enveloped his church's whole understanding of Christianity. (30)
One might expect that Martin's tiny book is a chronicle of the collapse of his faith, of his transformation from piety and belief to disillusionment, skepticism, and the kind of resentment that comes from disappointment.  One might expect from Martin the autobiography of an atheist.
On the contrary.  Martin's tiny book is the chronicle of faith discovered.
Martin continues in this tiny book, and his confession is poignant and painful and, oh, so pertinent to the current state of American religion, in which folks are dashing headlong away from churches, with their faith tightly clutched under their arms.
What had been divine light, transcendent radiance, passed imperceptibly into the shadows where I thought I could discern a quasi-diabolic presence. It is not that the author of my conversion had been someone other than God.  But I had remained hooked to a reality that could not but cease one day to be perfectly efficacious in its petrified form. (75)
The reverend Martin is grand, in this tiny book—grand in the way that only comes from the courage, such as Job's, to blaspheme.
The whole idea of sin and salvation, so extraordinarily and irremovably anchored in the human heart, especially in the pious man, is nothing but a transaction in the marketplace.  Tit for tat!  I make an effort—you bless me.  I make another effort—you bless me a little more.  Finally, I make enough effort (but when?)—and you bless me completely… How asinine! (31)
What then?  Martin rejects sin and sinfulness, the piety that makes god a fortress in which to hide and to exclude, the faith that is only conviction, the parsing of scripture and tradition, the hope of some salvation.  He rejects them, one after the other, deliberately and thoughtfully and mercilessly, even without knowing what could possibly take their place.  And it seems that much of the demand to reject it all comes from the realization that he can reject it.  What can be set aside reveals itself as a construct.
All the rest, all that I fabricate, either by means of my human thought, or by means of my theology, or even by means of the Bible, all that must die.  It is necessary to kill God, even at the risk of dying oneself. (21)
The deicide—that crime so grim the pious will punish the speaking of it—reveals the last possible thing, the thing indivisible.
I know that no difference exists between me and the most miserable, the most ill-favored man that I meet…. I can only be with him, sharing his human misery, taking part in the danger of being man, this danger that has us both in his grip…. I cannot live in the world without being in it.  (73)
By killing god, Bernard Martin finds God.
The true God will be found there, outside of myself, in the world and its confusion, in the suffering of others. (20)
I am less and less a praying man.  At least, I am given less and less to uttering prayers such as my tradition has shaped for me.  But, under the influence both of Reverend Martin's courage and his prayerful tone, I'm inclined to offer the following:
O God… I hope I can kill you.
_____________
Martin, Bernard. If God Does Not Die. James H. Farley, trans. (New York: John Knox, 1966).