Who isn't amazed by those lads and lasses who balance a number of plates, keeping them all spinning at the end of various lengths of pole. And who hasn't felt like one of those fellows, when there's a lot of tasks to be done, all seeming to be of equal importance so that prioritizing seems impossible? I'm right there, these days.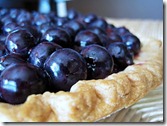 Or maybe it's more like a smorgasbord. Like a church supper where there's so many kinds of delectable desserts that it's so hard to choose just one. Or even four. (Yes, I can see you smiling! You've done that. Loaded a plate full of postage stamp sized pieces of cake. Slivers of pie so thin the light shines through the filling like a fruit studded stained glass window.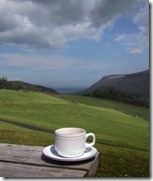 Servings of pudding so dainty they'd barely fill a Protestant communion cup! Yes. But I digress…)
My days are like that now. I've got so many possibilities that I really almost feel like just avoiding all of them. I'm almost to the point where I'm ready to plop down on the sofa, curl up with a good book and a cup of tea (from Teavana, passion du jour), and read the day away.
But I can't. Well…maybe just for a little while…