Reporting from Milwaukee this week, we found ourselves at the amazingly wonderful and well-nigh irresistible Peter Sciortino Italian Bakery. They haven't changed a bit since I was last there, over ten years ago. Thank God, because if it ain't broke, don't fix it.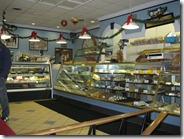 Sciortino's carries the full complement of Italian baked goods, from delicate cookies and hearty yeast breads, to luscious cannoli. Everything is super, and the place looks and smells delicious. I got a dozen cookies and figured that would be more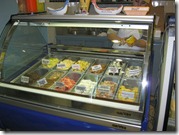 than enough to be satisfactory.
What I don't remember from the last time I was here was a display of gelato—a dozen delectable flavors in all. Sooooo hard to decide… Peach mango won the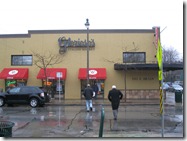 day—though any would have been excellent.
Next we stopped at Glorioso's Italian Market. Though we only needed butter and eggs, it was SO HARD not to walk down each and every aisle, so varied an intriguing was the selection. However, lest we come home with pasta in unpronounceable shapes, and sauces of indeterminate usage, not to mention pocketbooks of flaccid emptiness, we quickly left. I'll have to make a list first, next time.