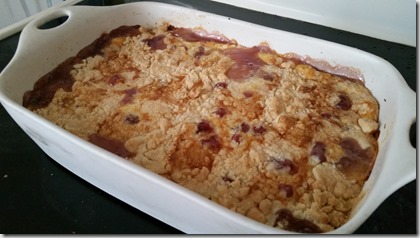 Dinner is actually ready to go into the oven, and it's not even 3:30! What a miracle. We're down to about nothing in the house, and it's time to put together a shopping list, but I don't get paid until the 3rd, so it's scramble time.
Yesterday, I made a Dump Cake, because I found all the ingredients. Marvelous. I have been making this for over thirty years, since my mom brought home the recipe from work, and we tried it because it didn't seem believable. It's extra good with ice cream. There's probably a thousand variations, but this is the one I always make.
Dump Cake
Preheat oven to 350° F
Gather ingredients:
1 20-oz can of crushed pineapple
1 21-oz can of cherry pie filling
1 box yellow cake mix
1 stick butter
(In all honesty, I use the cheapest store brand available. I have detected no difference in taste by using more expensive brands.)
Grease a 13×9" pan. (I use solid white shortening, and I think it works the best. Suit yourself.
Dump the crushed pineapple in the bottom of the pan, and spread it evenly around.
Spoon the pie-filling over the top of the crushed pineapple.
Sprinkle the dry cake mix over the pineapple and pie-filling.
Cut the butter into pats, and dot them evenly over the top of the dry cake mix.
Seriously, that's it. No stirring, no nothing. Perfect for kids.
Bake at 350° for 45 minutes, or until lightly browned. Cool slightly and, for best flavor, serve with vanilla ice cream. Or not. Store whatever small amount is left, covered, in the fridge. It reheats well in the microwave.