Patheos recently asked contributors to discuss defining moments in their faith and path, and I'm eager to share one of mine.
For ten years, I was mostly content to "practice" as a solitary. I say "practice" because for most of that time, despite calling myself a Witch and feeling a connection to Goddess, I did very little in the way of spells or rituals. I insisted on keeping a nice, archetypal, academic distance from the deities, and I was constantly haunted by Stockard Channing's voice from the film Practical Magic reminding me that "You can't practice witchcraft while you look down your nose at it!"
I think I was partly afraid of what non-Pagans (which, at that time, made up my entire social and familial circles) would say about my faith, and I was also more than a little frightened of magic. As a "baby Pagan," I'd had a really bad experience with a group, leading me to shy away from both magic and group work for the next decade. As to the darker aspects of magic, forget it. I wanted my faith to be fluffy and safe, and I chose to ignore the things I didn't understand.
I puttered along, not really growing in my faith, until we moved to North Carolina. The Pagan community here is rich and active, but I still hung back for a bit. Finally, I worked up the nerve to attend a local Pagan book club; the group was meeting in a public place, and I figured if I got any bad vibes from the members, I could disappear and never be missed. Despite my fears, the women I met that night were welcoming and warm, and they invited me to attend their open circle for Beltane the next month. I didn't really plan on going, but something about connecting with like-minded women for the first time in ten years filled my heart, so I took a leap of faith.
The ritual was held at one of the women's homes, and I towed my patient husband along as backup. When we got there, he immediately started to chat with the hostess's husband, and the two happily holed up inside while the group got down to the business of the ritual. At first, I was nervous and scared, but when the hostess was doling out roles for the merry ritual, I found myself volunteering to be the May Queen.
That night, in a circle of women who began the night as strangers to me, I finally embraced magic. The ritual was powerful and exultant, and as so often happens with group magic making, I found myself deeply connected to the women in the circle. I left that night after embracing my new sisters, alight with love and magic. Because of one bad experience early in my path, I had resisted the urge to find a spiritual community, but after that Beltane ritual, I learned three things: group magic forms lasting bonds of community and love, I love working in a circle, and I do not need to be afraid of magic.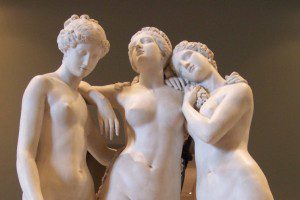 Since that moment, my practice has changed in leaps and bounds. I gradually learned to listen to the individual voices of the deities, rather than keeping them at arm's length with research and Jungian archetypes. I've embraced magic, and I practice it joyfully and without fear, and I am learning to be aware of the darker elements of my path. I've also opened my heart and moved beyond my early community experience, and I am now in a place where I seek out new and diverse experiences within the Pagan community. I always return to home base, however, and the rituals I look forward to most are with that first circle that welcomed me with open arms, even though I was a nervous stranger.
Beltane was a turning point for me; I'm still primarily a solitary Witch, but I have learned the joy and deep connection available in group ritual. The circle has shifted in the intervening years, with members coming and going, but the group still meets for every Sabbat to celebrate together in a fun, informal, and often women-centric way. In a week, I'll be joining them for my fourth Beltane celebration, and my heart is filled to bursting with gratitude for the presence of a spiritual community in my life.
Because I was willing to take a risk, my path and my practice shifted dramatically. Since that Beltane, I have changed in many ways, but my devotion to Goddess and my love of magic have not weakened; they are both stronger now than I could have imagined four years ago.
---
The Busy Witch is published on alternate Tuesdays. Follow it via RSS or e-mail!