For as long as communities and families have existed, men and women have assumed roles that allow for their defense, protection, and strengthening. I think that most people would do anything in their power to protect those they love and are responsible for. The family, and the close community that we've worked to establish kinship with, play central parts in our personal continuity and stability. Though we come to these roles in a modern context, ancient heathen women had similar responsibilities, and we can look to their examples in a number of ways.
While the sagas are only one of the literary references available for learning about heathenry, their stories can broaden how we view the heroic nature of the characters and provide some insight as to how they were perceived. By including Lore-based references, a comprehensive perspective of heathen women and ancient views of the feminine become possible. Scholar and author Jenny Jochens encourages the reading of the sagas and explores the livelihood and activities of early heathen women in Women in Old Norse Society, a book that I highly recommend.
Ancient heathen women may not have always held a definitive say in the establishment of social contracts or administrative affairs, but they held the power of persuasion and could use it decisively. In the sagas, they incite battle to protect their families, and in this way defend their homesteads and honor. In Njal's Saga, for example, Bergthora's determination to uphold the honor of those in her household takes precedence in her decision-making – even at the possible expense of her own physical well-being. Bergthora convinces her sons to fight for revenge when she decides it is called for. She is willing to die with her husband rather than save her own life when given the opportunity, because she has given her word that they will suffer a similar final fate. Further, in some cases women appear to have held leadership roles: in the Landnámabók, Aud is named as one of the earliest settlers of Iceland after the deaths of her husband and son.
Scholar Liv Dommasnes (Late Iron Age in Western Norway: Female roles and ranks as deduced from an analysis of burial customs) suggests that women's roles may have increased in importance over time, based on evidence of larger burial mounds and the inclusion of additional grave goods (her study is of Sogn, Norway). The role of women was one of responsibility, loyalty, and dedication to maintaining the welfare and continued prosperity of the home. The artifact evidence suggests that this role became more valued in the Iron Age as populations grew.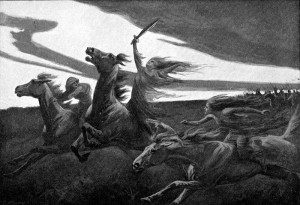 We can learn more about how feminine power was perceived by looking at the Norse goddesses. The raw power of the ocean is personified through the goddess Rán. Sunna, the goddess of the sun provides light and warmth; crucial for the growth of crops and continuity of life, sunlight embodies what is essential for nurturing a viable existence. Frigg, wife of Odin, has domain over hearth and home–a nurturing role. But Frigg is also the deciding factor that turns Odin's favor to the Lombards during battle. Freya is also involved with warfare and receives the first choice from the battle-slain as to who will accompany her in the afterlife. There is also the story of Gefjon in the Ynglinga saga, who is said to have created the island of Zealand overnight by transforming her sons into oxen.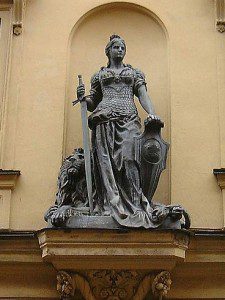 Women also appear as significant historical figures. For example, Mother Svea is considered the matriarch of Sweden and statues of her are still prominently displayed. She represents strength, vitality, and the people as a united whole.
Honoring the dísir (female ancestors) is an important part of modern heathen ritual. Female ancestors are collectively remembered through the giving of personal offerings relevant to the home and family. This mindful remembrance strengthens a specific bond with the long line of familial women that are linked together through time.
Though women in many cultures and time periods have faced culturally imposed limitations and barriers, female models of responsible endurance and perseverance echo throughout history. Women have accomplished great things and worked endlessly to preserve their homes, livelihoods, and future. Since family is central to heathenry, enormous respect is given to our female ancestors, whose work benefits all their descendants. A great deal of significance can be placed on the roles of men in heathenry, and they certainly have achieved much to be celebrated. However, the contributions of women are equally worthy of recognition. The honoring of female ancestors can empower all women who wish to celebrate the vital and multi-faceted roles of women in heathenry.
---
Heathen Woman is published on alternate Fridays. Subscribe via RSS or e-mail!