Despite my pride in my matrilineal Celtic heritage, and although I've been honored to participate in rituals held by various ADF Groves, I am not a Druid. But when James Nichol's Contemplative Druidry came in, our editor decided that as "The Zen Pagan" I was the go-to guy for the contemplative side of Paganism in general. So my reaction to it may be a little backwards from what the author intended — instead of justifying a contemplative approach to a Druid reader, in this case it's justified a form of Druidry to someone with a more contemplative practice.
The Druidry here is mostly that of the Order of Bards, Ovates, and Druids (OBOD), a primarily British group. Like me, my fellow American Pagans are probably more familiar with the somewhat different Druidry of Ar nDraiocht Fein (ADF). The inimitable John Michael Greer, a member of both groups, has written a comparison which can be found at the ADF website; in short, where ADF is a church with a more recently added initiatory current, OBOD is an initiatory mystery school with a Universalist approach. I could have used a bit more background about OBOD's Druidry, but a few minutes with DuckDuckGo (my internet search engine of choice) was sufficient to fill me in enough to follow the discussion.
Nichol came to be interested in a more contemplative approach to his Druidry after a mystical experience in June 2007, "triggered simply by noticing and contemplating a wild rose, growing on the banks of the river, an experience "which only "lasted a few moments" but caused "a subtle shift of awareness" for several weeks, where he "woke up every day with a sense of joy and connection."
This experience eventually led him to renew his study of the Shambhala school of Tibetan Buddhism, as well as other forms of Buddhism, and then to propose to the OBOD leadership a program of "contemplative exploration". This book is the result of that exploration.
Nichol's role here is more editor than author, summarizing the discussions of fifteen English Druids (including Nichol himself). Thus, rather than a detailed discussion of one perspective the book presents a diversity of voices — the depth perception of multiple perspectives. I found this to be a strength, but a reader looking for a deeper justification of contemplative practice, or detailed instructions for practice, may find it a disappointment.
The first section of the book relates bits of the participant's back-stories, from their childhood spiritual experiences to how they came to identify as Druids. It gives a composite portrait of the sort of person who is attracted to a contemplative path within Druidry/Paganism. The second section looks at the practice methods they's adopted: formal meditations, both solitary and group; walking in nature; and integration into daily life. As Nichols notes, "…[F]ormal meditation is not our only kind of contemplative practice. Just being in nature and walking the land are major settings for contemplation. So are chanting, movement and methods that involve creative arts and crafts. So are the activities of daily life. In many ways the essence of our contemplation lies not in what we do, but the presence and awareness we bring to it."
The third section looks at the benefits of contemplative practice for the individual, as a sort of "recharging", a antidote of the busyness of modern society, and as a foundation for more outwardly directed work; and at what it can bring to Druidry as a whole, as a resource for a more mindful community living. A concluding section (prior to an appendix with more details about how the collaborative process worked) presents Nichol's conclusions and suggestions about how to foster a contemplative current within Druidry.
While all the participants in this exploration are Druids, there is enough diversity in their experience that I can recommend this book to readers interested in a broad survey of contemplative trends in Paganism. It also perked up my interest in the OBOD form of Druidry, so I'll be doing some further reading on that.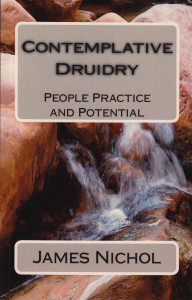 Contemplative Druidry: People Practice and Potential
by James Nichol
with Foreword by Philip Carr-Gomm:
"Deep Peace of the Quiet Earth: the Nature Mysticism of Druidry"
---