You may not consider yourself a poet–and I'm certainly not a genius at it–but here's a simple poetry exercise that you can use as a form of personal work, brainstorming, or just to get your creative engine going. In this case, I crafted this poem during a workshop focusing (as probably won't surprise you) on the myth of the Grail Quest. We were exploring specifically what inspired us, what "filled our cup," and we were encouraged to craft a poem in the shape of a cup to work with that.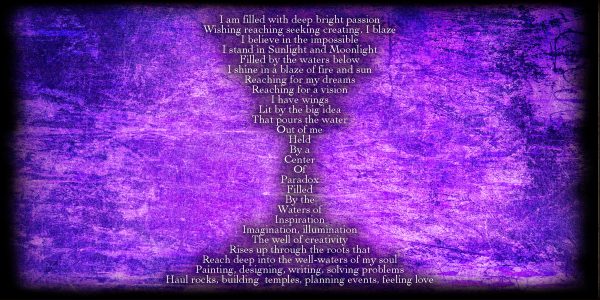 You can pick any shape for your poem. An apple, a mirror, a tree. The Grail-shaped cup  is also an easy shape to work with for a poem. What I find works well for a poem like this is to just not worry about how "good" of a poem it is. Write down a few words or phrases that connect to the concept for you, and then work them into the shape.
What about you? What fills your cup? What inspires you? What connects you to the divine?
Filling My Cup
I am filled with deep bright passion
Wishing reaching seeking creating, I blaze
I believe in the impossible
I stand in Sunlight and Moonlight
Filled by the waters below
I shine in a blaze of fire and sun
Reaching for my dreams
Reaching for a vision
I have wings
Lit by the big idea
That pours the water
Out of me
Held
By a
Center
Of
Paradox
Filled
By the
Waters of
Inspiration
Imagination, illumination
The well of creativity
Rises up through the roots that
Reach deep into the well-waters of my soul
Painting, designing, writing, solving problems
Haul rocks, building  temples, planning events, feeling love
Poem First published in CIRCLE Magazine, issue 104, Fall 2009
---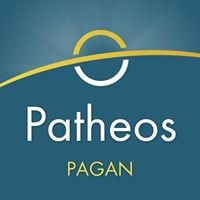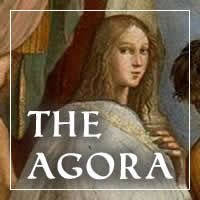 Seeking the Grail is published on monthly on the third Monday. Subscribe via RSS or e-mail!
Image above courtesy of the author.
Please use the links to the right to keep on top of activities here on the Agora as well as across the entire Patheos Pagan channel.