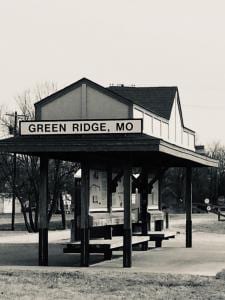 Welcome to Green Ridge, population 476.
Down a gravel lane, back in the far corner where the town meets the prairie, sits a pretty little acre with a small house and a shed and a stand of maple trees.
This is my home.
Green Ridge is a real town with real places and people: the school, the park, the post office, the Casey's gas station.
But Green Ridge is also the wheel upon which I spin my yarns. The treadle of each day clicks and thumps, the seasons spin, and I turn out stories, prayers and hymns about small towns and rural life, nature and family.
For this reason, Green Ridge is not just a real place, but the stuff of legend. I have made it "high, wide and handsome." I have changed people's names, undone its knots and gnarls, and stretched it until it has room to hold the stories of my old homeplaces and my upbringing in rural Illinois.
This blog is not journalism, the recording of facts. It is not punditry, the proclaiming of opinions. It is not research, the discovery of verifiable detail. Green Ridge is a story. I am a storyteller. It is a story about God and community in the forgotten places–pastures and prairies, riversides and villages, cornfields and hayfields and little old houses.

These forgotten places are still working, speaking, singing, and worshipping. It is my job to tell you all about it.
-Punky