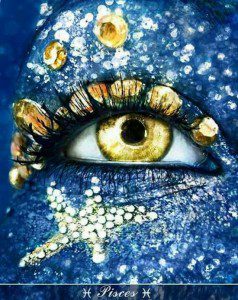 I woke up feeling a bit lighter in my step, with an itch to explore some new creative ideas and then I remembered that it was a New Moon Monday, in Pisces, and it all made sense.
Yesterday's wake up had me feeling a bit sad. It could have been the sleep deprivation, the stolen hour, or the fact that I needed serious hydration – or all of the above. And because of my sassy mood, I used my voice (or written voice, that is) on Facebook to state, release and purge. What I didn't expect was minor backlash that occurred because of it. Although I am a Scorpio, I'm married to a Pisces, and should've realized that we were in the shadow of the Pisces moon – as Pisces tend to be outspoken, critical, blunt, creative, loving, blunt – oh, did I say blunt twice? Oops!
As this New Moon is in Pisces, you might find that you, and others around you, are more outspoken than normal and a bit more sensitive than normal. So the best thing to do during this time is to explore your creative side. Even if your life or job position is analytic, you don't have to be an artist to be creative, nor does creative equate to painting or drawing. It can be creative thinking.
Since Pisces is a water sign, for the next three days you might be:
Feeling sad.
Feeling nostalgic.
Feeling frustrated.
Feeling angry.
Feeling irritable.
Feeling intuitive.
A need for independence and solitude.
Feeling a need for detail and organization.
Pisces likes fairness and if you are feeling as if this is lacking in your life, you might feel more tuned into the negative side of the Pisces Moon.
How to handle this moon:
Explore your creative side. You don't have to be an artist to be creative.
Journal.
Reach out to family and friends that you've been feeling drawn to connect (or re-connect) with.
Sign up for classes (leisure or otherwise).
Drink some tea (my favorite is the Chakra teas by Stash).
Go to a concert, or simply turn on the music and let it fill your soul.
Go shopping and buy yourself something pretty.
New Moons are about new beginnings. This is a great time to re-focus your thoughts and your actions so that by the Full Moon on March 27th that you might see some of these wishes sprout, and maybe even bloom!
Here are some good exercises for you to do after 3:51pm Eastern Time on March 11th!
NEW MOON WISHES:
Each month on the new moon write up a list of 10 wishes. It can be anything from romance to finances and anything in between.
Don't write more than 10 wishes AND handwrite (don't type, it makes it more personable.
Try to make your wish list within the first eight hours of the new moon, and not when the moon is void because your wishes become null and void.
If you miss the first eight hours, you can still make your wish list within the first 48 hours of the new moon.
NEW MOON ABUNDANCE:
Writing an Abundance Check is an exercise you can use to create more abundance in your life and the check is to be written within 24 hours of each New Moon.
On your check where it says "Pay to," write your name.

On the same line where you would fill in a dollar amount write "Paid in full."
On the next line where you would write out a dollar amount, write "Paid in full." [Some say it works better if you don't add the squiggly line.]
On the signature line, sign your check: "The Law of Abundance"
If you don't have checks, or don't; want to waste one, you can simply create a handwritten one.
It is not necessary to put a date on the check (although I do). DO NOT write a specific dollar amount on the check. Then put the check away in a safe place and forget about it. You might even want to burn it on the Full Moon (I will get to that on the next Full Moon).
Allow the Universe to take over from there. Yep, that silly control thing. Let it go!
If you want more information on New Moon Astrology, check out Jan Spiller's book New Moon Astrology: The Secret of Astrological Timing to Make All Your Dreams Come True. She offers a wealth of information!