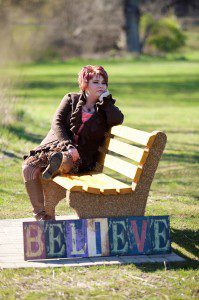 Kristy Robinett is a world-renowned revolutionary Psychic Medium and Author of Ghosts of Southeast Michigan, Michigan's Haunting Legends and Lore (2012), Messenger Between Worlds (2012) and Higher Intuitions Oracle deck (2012).
Kristy Robinett's involvement with the paranormal began at the age of 3 when she began playing and communicating with spirits, labeled imaginary friends by her parents, which was totally unacceptable.
Kristy specializes in bringing humor to what most fear and inspires all ages to ignite the light within them so that the fire of inspiration continues on. It's Kristy's down to earth style, honesty, sense of humor and warmth that makes her a sought out coach and speaker.
Kristy has worked with a number of paranormal teams throughout the United States on paranormal cases, along with law enforcement as a psychic detective and psychic profiler.
Kristy has been profiled on many radio and television shows. She's read for a blushing clientele of Who's Who in Hollywood along with law enforcement, clergy, politicians, physicians, attorneys, domestic goddesses, and local celebrities. She also teaches psychic development and paranormal investigating at local colleges, and is a Blogger for Patheos Spiritual Channel.
Visit www.tangledwishes.com to see upcoming events or to contact Kristy for a session.