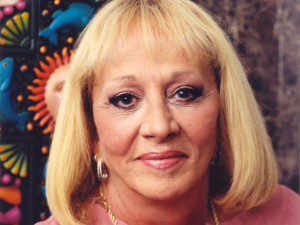 It was about seven years ago when I received the phone call from a woman claiming to be Sylvia Browne. At first I doubted it was a legitimate call, but it was hard to not recognize her voice. We had previously been called on by the police for a missing person's case. Because she had more celebrity clout, I guess you could say, she was taken more seriously than I was and she called to talk to me after the case was resolved and the information I shared was accurate. Instead of being competitive or adversarial she said something that I will never forget – "Kristy, you're really good at this!" And then she went on to ask me if I would do readings on a cruise that she was hosting. Unfortunately I had to turn her down because I was working at a corporate job and didn't have enough time to ask for vacation days off, but I expressed how honored I was at the invitation. We never spoke after, but I would hear from people within the psychic circle that once in a great while she would bring up my name, and a couple years ago that was made apparent when a producer of a new television show said she had received my name from Ms. Browne. I ended up not accepting the job, but again, I was honored.
Love her, hate her, or just don't believe, Sylvia Browne was a pioneer in the psychic community. Montel Williams had her on as a guest for 17 years and made her a star. Through Sylvia's television appearances, her books (many of which climbed to the New York Bestsellers list), many learned about Spirit Guides, Heaven and the life after death through her. She wasn't without scandal as incorrect information was publicized, but correct and validated information was rarely commented on. She opened up the paranormal and the metaphysical doors shouldering the critique like a badge of courage. Sylvia got people talking, people thinking and people wondering.
Sylvia Browne crossed the threshold to the Other Side on November 20, 2013 with her family by her side. May she rest in peace.
Reference:
http://www.sylviabrowne.com/
Believe,
Kristy Robinett
Kristy's BIO:
Kristy Robinett is a psychic medium and author whose involvement with the paranormal began at the age of three when she began playing and communicating with spirits, labeled imaginary friends by her parents, which was totally unacceptable. Kristy specializes in bringing humor to what most fear and inspires all ages to ignite the light within them so that the fire of inspiration continues on. It's Kristy's down to earth style, honesty, sense of humor and warmth that makes her a sought out coach and speaker. Kristy has worked with a number of paranormal teams throughout the United States on paranormal cases, along with law enforcement as a psychic detective and psychic profiler.
Kristy teaches psychic development and paranormal investigating at local colleges, lectures across the country and is a regular on several radio stations around the USA (Detroit's #1 Station – WDVD 96.3 and Oklahoma's KISS FM) and was honored to be a guest on Coast to Coast with George Noory. She's had several television appearances, including Fox News, ABC News and The Ricki Lake Show and is also the author of Higher Intuitions Oracle, Ghosts of Southeast Michigan and Michigan's Haunted Legends and Lore (Schiffer Publishing) and Messenger Between Worlds (Llewellyn Worldwide). Kristy will also be appearing on the Investigation Discovery network Winter of 2014 on a series of police cases she worked on.
You can visit her online at KristyRobinett.com, facebook.com/kristyrobinett, or Twitter – @kristyrobinett.