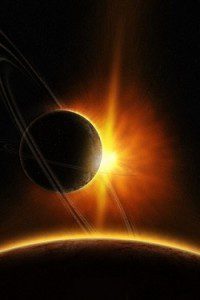 On April 8th, Mars will be exactly opposite the sun in the sky in a cosmic alignment set to take place Tuesday, April 8th.  Some are calling this rare, but in reality it happens every two years, as it takes that long for Mars to orbit through the zodiac.
The planet Mars is masculine energy and rules both Aries and Scorpio, and the First and Eighth Houses. Mars rules our sexuality and sensuality energy and works best when there is balance, much like Yin and Yang. Mars is an action planet, and with its fiery reputation it is no wonder that it also rules the military, war, aggression, passion, and confidence. So on April 8th when the sun and Mars comes face to face, will there be a battle, or an understanding? It is up to you.
Many will assume that since Mars is so feisty, that this means that there will be conflict. And I am not saying that the week won't bring that, but I like to interpret not from a worldly perspective, but instead on an individualistic perspective. What war have you been fighting in your life? Mars is all about taking action and finding the inspiration to say what you need to say, do what you need to do and take that leap of faith.
Over the last couple months, there is has been a lot of frustration and over-sensitivity. Those within your close circle, more than likely showed their true colors and dropped off. The job that you thought you would love forever, turned out to be nothing like the job you thought. The family that you thought would always stick up for you betrayed you. So insecurities have played havoc on your soul.
This week is all about making well thought out decisions which include balance and passion. Be very careful to not muddy it with the sourness of past un-justifications. Look at the values that you hold, and those values that you may have set down to fit someone else's idea of right – and then correct that.
If you are having financial issues – this is the time to talk to a professional and get a game plan in place.
If you are having job issues – this is the time to reevaluate your career, and possibly sign up for school or some training, or sparkle up the resume and start networking.
If you are having love issues – this is the week to see where and how your heart sings.
On April 15th, we will have a lunar eclipse called the Blood Moon that will show up in the sign of Scorpio. There have been rumors that this is the sign of end times. And although it will be a busy astrological time, don't run for your bomb shelters yet. We may, however, have some wicked weather around the United States and people will be acting even more out of sorts (hello, full moon). There may actually be an increase in paranormal sightings. An Aries Full Moon is often charged and angry, which radiates within, through and to us.
Before the full moon, this week makes it a great time to find your inspirations, your passions, look at what you have been putting off and correct it, and set goals for the next TWO years when this same 'rare' scenario returns.
Believe,
Kristy Robinett
About Kristy Robinett – www.kristyrobinett.com
Kristy Robinett is a psychic medium and author who began seeing spirits at the age of three. When she was eight, the spirit of her deceased grandfather helped her escape from a would-be kidnapper, and it was then that Robinett realized the Other Side wasn't so far away. As an adult, she was often called upon by the local police department to examine cold cases in a new light and from a different angle. She gained a solid reputation for being extremely accurate at psychical profiling and giving new perspectives on unsolved crimes. It was then that she began working with a variety of law enforcement agencies, attorneys and private investigators around the United States, aiding in missing persons, arson, and cold cases and will be part of a new series Restless Souls on Investigation Discovery (ID Network)  premiering Monday, April 14th at 9 p.m. EST.
Robinett teaches psychic development and paranormal investigating at local colleges, lectures across the country and is a regular media commentator. She is the author of It's a Wonderful AfterLife; Forevermore: Guided in Spirit by Edgar Allan Poe; Messenger Between Worlds: True Stories from a Psychic Medium; Higher Intuitions Oracle; Ghosts of Southeast Michigan; and Michigan's Haunted Legends and Lore. You can visit her online at KristyRobinett.com, facebook.com/kristyrobinett, or Twitter.com/kristyrobinett.