We all have intuition, but sometimes real life has a way of putting us on auto-pilot and we miss the signs. Oracle cards are a great way to listen.
Below are 4 cards from Doreen Virtue's Indigo Angel Oracle. All the backs are the same. Take a few deep breathes and ask your higher self, your angels, guides, and loved ones on the other side what it is that you need to know right now and choose one.
Which one speaks to you?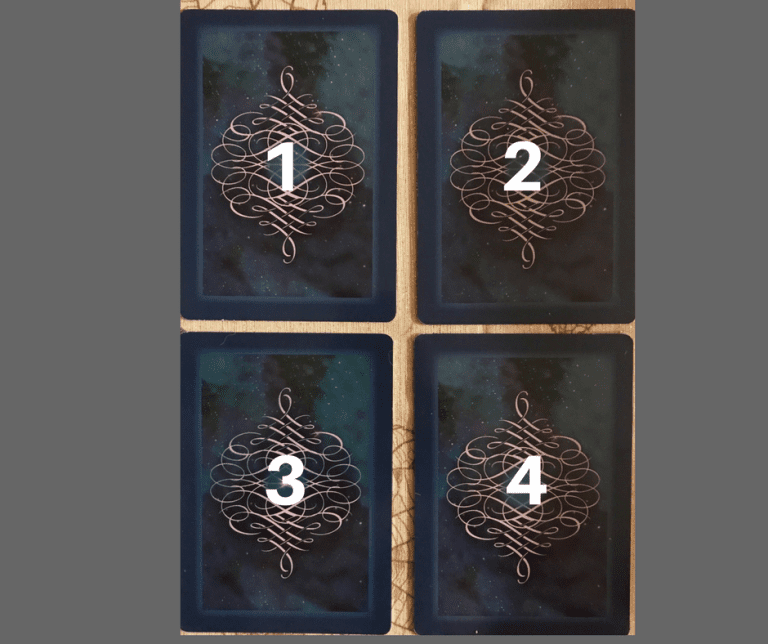 Usually your first instinct is the right one.
The cards you chose are below.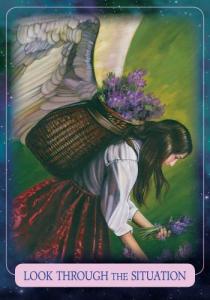 If you chose #1 you chose LOOK THROUGH THE SITUATION.
As an Indigo, you may get caught up in the emotions in a situation and feel stressed or frightened. This card reminds you that life will continue long after you've gotten through this challenge and forgotten all about it! The angels ask you to concentrate on the good things in your life and see beyond whatever is going on around you.
One of the best ways to find resolution is by releasing the situation and allowing yourself to feel relief. Take time to relax, and imagine what it will feel like when this trying time is over. Trust that the angels hear your prayers loud and clear, and will help you with resolving every aspect of this situation.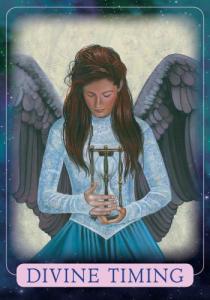 If you chose #2 you chose – DIVINE TIMING.
Pay attention to doors that are opening and shutting for you right now. Walk through doors that open, and learn from the doors that shut.
Your prayers are being answered; there is no doubt about that. However, everything operates according to the Universal Laws of Divine Timing. This means that certain pieces of the puzzle must first fall into place so that other parts can come to fruition. If you try to skip or rush certain pieces or parts, the whole plan will lack a solid foundation.
Don't try to force open any doors that appear closed to you. Instead, ask your angels for guidance to see if the door closed because of negative expectations, or if it's simply a sign of Divine Timing. Look for other doors that do open, and walk through them with faith and gratitude.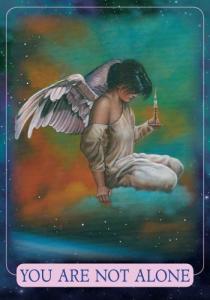 If you chose #3 you chose – YOU ARE NOT ALONE
As you grow older, you'll realize that no one on this planet truly knows what he or she is doing—we all just get by as best we can. This card reminds you that you've got plenty of help and companionship available to you.
Never before have so many people come into a lifetime with the shared Divine purpose of rewriting the script for daily human life. Your Indigo mission is so very important, and there are literally millions of other Indigos in this world having very similar experiences. Ask the angels to help guide you to like-minded people who can relate to you. It will soon become apparent to you that you are an integral part of one of the most significant movements in human history.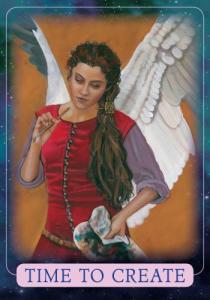 If you chose #4 you chose TIME TO CREATE
This card calls for you to get in touch with your creativity and express yourself through art, inventing, or performing.
As an Indigo, you have a lot of pent-up energy that needs an outlet. It's time to create something from nothing, knowing that you're a Divine channel of inspiration.
The angels ask you to bring something unique to this planet that can only come from you. Ask them to work through you, and together you will make a masterpiece that will bring blessings to the world.
Embracing your creativity helps you realize that your ability to manifest in this lifetime is only limited by your imagination.
****
Sometimes the message doesn't resonate immediately. Don't over analyze or choose again, simply thank your guides and angels for the message.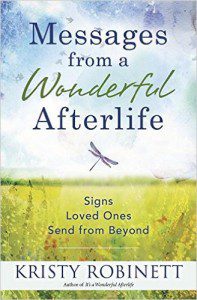 Kristy Robinett (Michigan) is a revolutionary psychic medium, international author, and inspirational speaker. In addition to giving readings and teaching workshops, she uses her psychic skills to assist with police investigations. Kristy lectures across the country and is a frequent media commentator, appearing on the ID Channel's Restless Souls, Fox News, ABC News, Coast to Coast, and more. Kristy Robinett is also the author of several books, including Tails from the Afterlife: Stories of Signs, Messages, and Inspiration from your Companion Animals (Llewellyn, March 2018); Messages From a Wonderful Afterlife: Signs Loved Ones Send from Beyond; It's a Wonderful Afterlife: Inspiring True Stories from a Psychic Medium; Forevermore: Guided in Spirit by Edgar Allan Poe; Messenger Between Worlds: True Stories from a Psychic Medium; Higher Intuitions Oracle; Ghosts of Southeast Michigan; and Michigan's Haunted Legends and Lore.Visit her online at KristyRobinett.com.