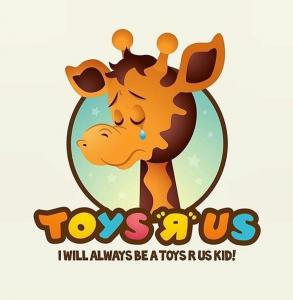 We heard the rumors for years that Toys R Us was financially hurting, but nobody seemed to want to believe it. My own kids are grown and it's been over ten plus years since I've stepped in a store, but there's special memories that I have and hearing the news of the closings hit me right in the feels.
I was (am) an avid reader, and almost every other Friday evening or Saturday morning for several years my mom and dad would take me to the local Toys R Us (ours was the Livonia Mall location on 7 Mile), to choose a book. It was the only place that sold the Bobbsey Twin books and they were my favorite. In the springtime the store would display their pools and sprinklers out in the front, and although I never got one, I would think of how lucky the kids were who did get those. I'd wander into the stuffed animal aisle, and window shop, like adults did at pet shops. But it was the book under my arm that satisfied me.
When my kids were born it was the place to go for their gifts, and the after-school surprise trip when they did well on their test or just needed a pick-me-up. But then Target, Walmart, and Meijer were sometimes easier to go to in lieu of one large toy store where many had to drag their kids out of kicking and screaming. The other stores made for an easier escape, and we could come out with that evening's dinner in cart. We are, after all, a society that aims for multi-tasking.
The news of the closings conjured fond memories, though. I don't yet have grandkids but there's a good possibility they will never know what an actual toy store entails. Instead they will go one aisle over from towels and laptops to choose a toy for their friend's birthday party. Or maybe they will simply click a key on their computer to order, delivered by drone within hours. I think Woody, Buzz, and the rest of the Toy Story crew is probably also pretty sad.
So as Geoffrey the Giraffe and the
employees
head to the unemployment line, life does what it does best, it goes on. I think, though, there are many like me who will continue to be a Toys R Us kid forever.
Believe,
Kristy Robinett
Kristy Robinett (Michigan) is a revolutionary psychic medium, international author, and inspirational speaker. In addition to giving readings and teaching workshops, she uses her psychic skills to assist with police investigations. Kristy lectures across the country and is a frequent media commentator, appearing on the ID Channel's Restless Souls, Fox News, ABC News, Coast to Coast, and more. Kristy Robinett is also the author of several books, including Tails from the Afterlife: Stories of Signs, Messages, and Inspiration from your Companion Animals (Llewellyn, March 2018); Messages From a Wonderful Afterlife: Signs Loved Ones Send from Beyond; It's a Wonderful Afterlife: Inspiring True Stories from a Psychic Medium; Forevermore: Guided in Spirit by Edgar Allan Poe; Messenger Between Worlds: True Stories from a Psychic Medium; Higher Intuitions Oracle; Ghosts of Southeast Michigan; and Michigan's Haunted Legends and Lore.Visit her online at KristyRobinett.com.