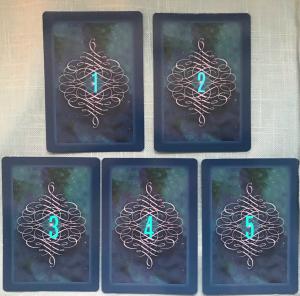 Full moons are about releasing what isn't working in your life. Oracle cards are a fabulous way of listening to the whisper of what you need to work on.
The backs are all the same, but by using your intuition, choose one of the cards that calls most to you. Take a deep breathe in and out. Don't second guess yourself – just choose. You might hear the number in your mind. One card may look brighter or sharper to you. Or you just feel that one card feels better than another. Whatever way you feel guided, which card feels right?
Which one calls to you?
.
.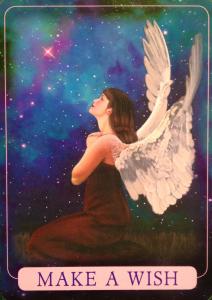 If you chose #1: Make A Wish: What do you most desire? What does your soul long for? This card asks you to get in touch with your deepest wishes and send them to Heaven, instead of deciding that they are not possible. The angels call upon you to use your Indigo power of attraction to create good in your life rather than hiding it under a pile of doubt.
This is an exciting card, because it means you are close to what you desire. You just need to exert a bit of energetic effort to help create it in your life. When you receive a message like this, it is normal for uncertainty or fear to arise. Just take a deep breath and allow your exhalation to release this lower energy from you. Have a silent conversation with your angels, in which you share with them exactly what you desire in life. One of two things will always happen: (1) You will get your wish; or (2) You will be shown a better, more suitable answer.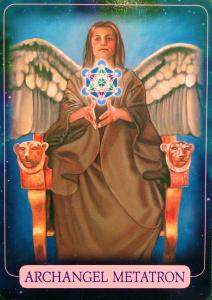 If you chose #2: Metratron – Archangel Metatron, the first angel on the Tree of Life in the Kabbalah, helps those who are newly upon the spiritual path. He oversees Indigos and ensures that their spiritual gifts stay open and active. Like all the archangels, Metatron is unlimited and is able to be with everyone who calls upon him.
This card asks you to work with Archangel Metatron in your daily life to welcome messages and signs confirming to you that you are perfect no matter what. This powerful messenger of Heaven can help bring you peace in situations you feel are very unfair or imbalanced.
Every time you call upon Metatron, this archangel will immediately go to work, bringing you a calm understanding of the situation and your life. He will also help you to let go of resentment and unforgiveness so you can move on and not allow lower energy to affect your life.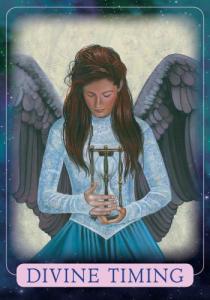 If you chose #3: Divine Timing: Pay attention to doors that are opening and shutting for you right now. Walk through doors that open, and learn from the doors that shut.
Your prayers are being answered; there is no doubt about that. However, everything operates according to the Universal Laws of Divine Timing. This means that certain pieces of the puzzle must first fall into place so that other parts can come to fruition. If you try to skip or rush certain pieces or parts, the whole plan will lack a solid foundation.
Don't try to force open any doors that appear closed to you. Instead, ask your angels for guidance to see if the door closed because of negative expectations, or if it's simply a sign of Divine Timing. Look for other doors that do open, and walk through them with faith and gratitude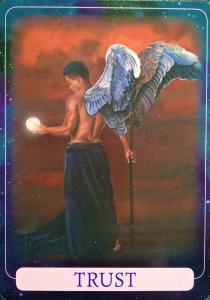 If you chose #4: Trust: This card asks you to trust that there is a purpose to life. Keep faith that the chaos you see around you has an underlying meaning and Divine design. When times are hard, Indigos can feel that the world has been orchestrated to work against them and that nothing is fair. The truth is that your viewpoint has not yet expanded enough to put your problems into perspective.
As you age, you will see that what seems overwhelming and unbearable now is only a minor hitch. Trust that there is so much more out there, including magical experiences. You will see how balanced the world has the potential to be.
Take this card as a reminder to persevere, stay strong and believe in yourself, because the world needs you more than you may know.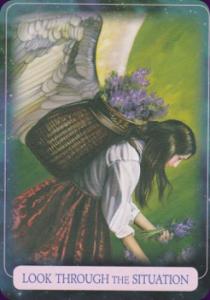 If you chose #5: Look Through the Situation. As an Indigo, you may get caught up in the emotions in a situation and feel stressed or frightened. This card reminds you that life will continue long after you've gotten through this challenge and forgotten all about it! The angels ask you to concentrate on the good things in your life and see beyond whatever is going on around you.
One of the best ways to find resolution is by releasing the situation and allowing yourself to feel relief. Take time to relax, and imagine what it will feel like when this trying time is over. Trust that the angels hear your prayers loud and clear, and will help you with resolving every aspect of this situation.
You deserve the best, now think it, feel it, see it and believe it. I believe in you!
If you loved these cards you can buy them here.
Kristy Robinett (Michigan) is a revolutionary psychic medium, international author, and inspirational speaker. In addition to giving readings and teaching workshops, she uses her psychic skills to assist with police investigations. Kristy lectures across the country and is a frequent media commentator, appearing on the ID Channel's Restless Souls, Fox News, ABC News, Coast to Coast, and more. Kristy Robinett is also the author of several books, including Tails from the Afterlife: Stories of Signs, Messages, and Inspiration from your Companion Animals (Llewellyn, March 2018); Messages From a Wonderful Afterlife: Signs Loved Ones Send from Beyond; It's a Wonderful Afterlife: Inspiring True Stories from a Psychic Medium; Forevermore: Guided in Spirit by Edgar Allan Poe; Messenger Between Worlds: True Stories from a Psychic Medium; Higher Intuitions Oracle; Ghosts of Southeast Michigan; and Michigan's Haunted Legends and Lore.Visit her online at KristyRobinett.com.