Your Essential Guide to Quick and Easy Astrology
Set yourself up for better relationships and a bright future with Born Under a Good Sign, the uncomplicated guide to astrological sun signs. This book strips away the woo-woo and technical charts, leaving only the most useful and clear information on each sun sign's traits and tendencies.
With sensible explanations and playful stories, Kristy Robinett provides everything you need to understand the larger impacts of the signs. You'll learn about planetary influences, communication styles, strengths and challenges, the masculine and feminine energy of each sign, and much more. Kristy also reveals how to handle difficult situations that arise with partners, parents, friends, and children. Featuring indispensable advice that isn't limited to any particular year, Born Under a Good Sign is perfect for improving your life and relationships.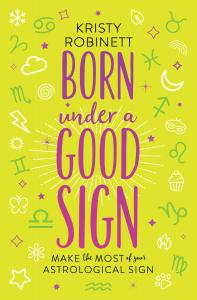 Kristy Robinett
 (Michigan) is a revolutionary psychic medium and astrologer. In addition to giving readings and teaching workshops, she uses her psychic skills to assist with police investigations. Kristy lectures across the country and is a frequent media commentator, appearing on the ID Channel's 
Restless Souls
, 
Fox News
, 
ABC News
, 
Coast to Coast
, and more. Kristy Robinett is also the author of several books, including 
Tails from the Afterlife
, 
It's a Wonderful Afterlife
, 
Messages from a Wonderful Afterlife
, and 
Messenger Between Worlds.