This week we begin Libra Season and the and the Autumn Equinox. It's a special time of growth, releasing, and asking for help. Oracle is an amazing way to ask your angels for assistance. So close your eyes and ask what number you should choose that will help you during this new season – YOUR season. Trust. These cards were drawn from the Archangel Raphael Oracle Cards by Doreen Virtue. Take some deep breathes, look at the below cards, and choose the card that most speaks to you.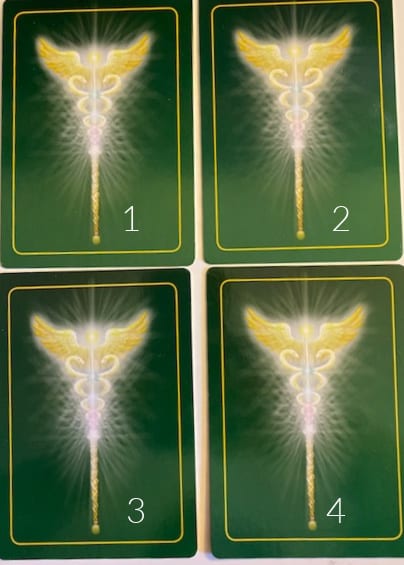 Which card feels like the message you need?
.
.
.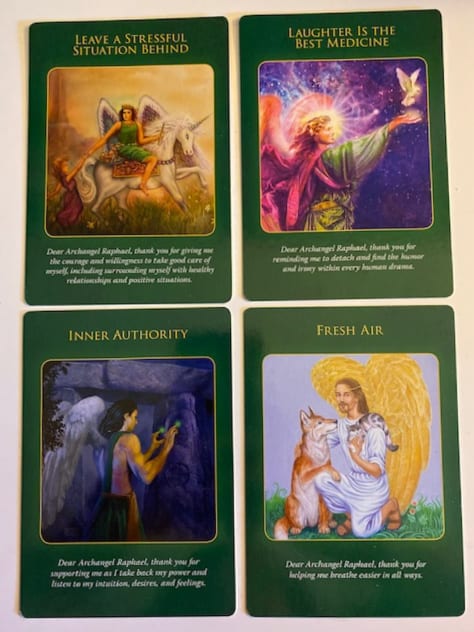 If you chose #1 – LEAVE A STRESSFUL SITUATION BEHIND – There is a situation causing you a stress and grief. This is a time of stress and there is a situation that is causing you worry and anxiety. It's time follow through. It's time to trust your intuition. It's time to make a change. You will overcome this trying time and receive solutions.
Prayer: Dear Archangel Raphael, thank you for giving me the courage and willingness to take good care of myself, including surrounding myself with healthy relationships and positive situations.
If you chose #2 – LAUGHTER IS THE BEST MEDICINE – Life has been heavy and you've lost pieces of yourself. When was the last time you laughed? Really laughed. It's now time to commit to doing the things that make you laugh. You can use laughter as a tool to deal with stress or to give you a boost in energy when you're feeling down. Everyone has different humor, so it's not a one size fits all. You might love silly videos, love comedians, or love goofy movies. It's also a reminder to step away from that in life that has stopped your giggle.
Prayer: Dear Archangel Raphael, thank you for reminding me to detach and find the humor and irony within every human drama.
If you chose #3 – INNER AUTHORITY – You've been confused lately because of differing opinions and advice about what you should do. This card serves as a reminder that you must take the course of action that's guided by your inner voice. You truly do know the best path to take, even if it means interacting with intimidating authority figures. In the long run, they'll respect you more for taking charge.
Prayer: Dear Archangel Raphael, thank you for supporting me as I take back my power and listen to my intuition, desires and feelings.
If you chose #4 – FRESH AIR – You need some fresh air. You've been indoors far too long, and your body and soul crave oxygen. Open the windows in your home and office to air them out, then go outside and breathe deeply. If you live in the city, make an escape to the country as soon as possible to breathe some much-needed fresh air. It may not be literal air that you need, but spiritual, feeling stifled by life.
Prayer: Dear Archangel Raphael, thank you for letting me breathe easier in all ways.