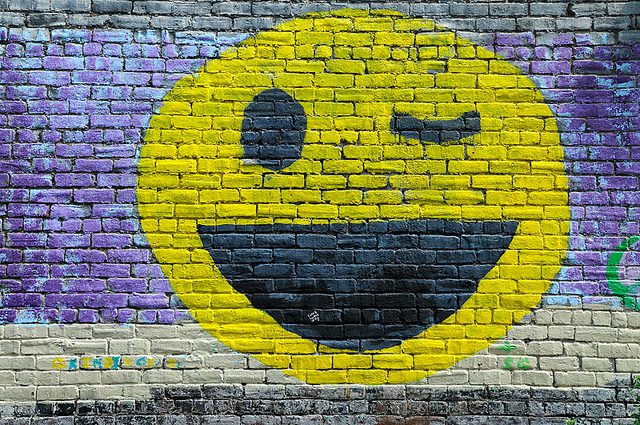 If you've ever been to Costco with a toddler you probably know the routine.
When the clerk checks your receipt against the items your cart at the exit doors they'll often warmly greet your little munchkin, flip over your receipt, and draw a smiley face with their marker on the back.
It's a small reward for surviving the often apocalyptic shopping experience that is Costco with a toddler, but it's impact can be much, much greater than that.
And today, it was.
With a grumpy, teething toddler I blew through our local Costco on a whirlwind trip to grab supplies for our upcoming camping trip. The toddler, mind you, for all his grumpiness was  doing pretty well but it was near nap time and errands that morning had taken longer than expect.
We were both tired, and near the end and sorely due for a little break—that's where the smiley face came in.
Did it ever, and the look on my son's face when he saw that face was of sheer joy. Glee!
As we ducked and dodged cars in the parking lot he waved his receipt in the air and gestured to anyone who would listen, "Smiley face! Smiley face!"
As we weaved through traffic on the drive back home he sat in his carseat, wave continuing, declaring, "Daddy, smiley face!"
And as I plunked him down into his chair for a somewhat hurried lunch, receipt discarded in the car, he looked around a suddenly gasped, "Where's the smiley face?!"
He patiently waited while I went to retrieve it.
And, dozzy on the change table as we prepared for chair nap, "Daddy, smiley face?"
"After nap, bud," I said. "He'll be waiting for you."
The incredible impact of the smallest acts of kindness are easily illustrated for us by situations like this—by the most wonder-filled of us, but all of us know, and can share, in similarly powerful experiences.
And we should.
At the core of the Gospels is a message of love and forgiveness. At the root of that message is a simple call: to love one another.
Jesus calls this a "new command,"
A new command I give you: Love one another. As I have loved you, so you must love one another. By this everyone will know that you are my disciples, if you love one another. (John 13:34-35)
And in case you weren't paying attention, the crux is in the second sentence: by this love everyone will know that you are my disciples.
By our example of love, everyone will know that we are Christians and in that example, we lead others back to Christ.
This our fundamental mission in life, to aspire to this kind of selfless love.
What our small acts of kindness do is they root us in the love that we're called to exemplify. That God wants to draw every man and woman into Himself, and into a love-filled life—that He has a most excellent plan for us—is abundantly clear from Scripture and experience. But it is us who must aid in the drawing; us that must demonstrate that love.
The Bible, and the Church, calls us to be the "hands and feet" of Christ in this mission.
It's ultimately us that need to exemplify God's unconditional and enormous love that He has for everyone.
It's kind of a huge tasks.
But experts will tell you that you can't change overnight—start small. Start with these tiny little acts of kindness, rooted in compassion and love for others, and make it a habit. And, if you don't feel that love, make it happen anyway. It'll come; it does.
Start with the smallest acts of kindness and let them grow from there, just don't ever discount the incredible power of these small things—power to cheer a toddler up can be, in a different situations, power to utterly change a life.