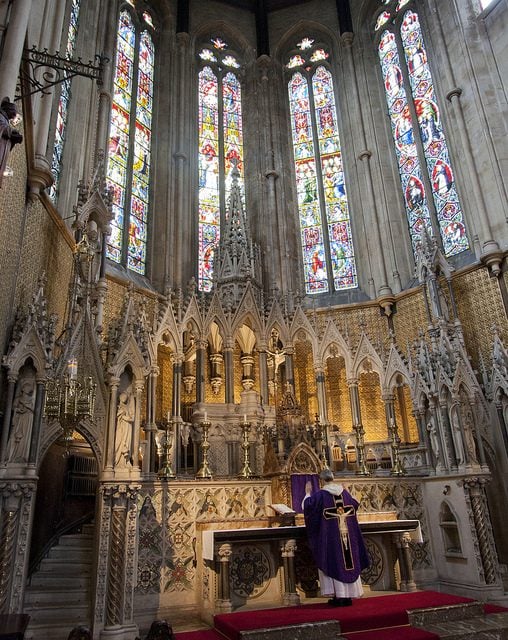 There's a power-packed G.K. Chesterton quote about the Catholic Church being the greatest antidote to the modern world. I like the quote so much because there's a deep ring of truth in there, gospel truth.
See, it's simple: As Christians Christ called us to live in the world but not be a product of it.
The Catholic Church, says Chesterton, is bar none the best way of pulling this off.
The best way to live in a fallen world without falling for it.
Chesterton observed this in the course of a lifetime that saw a militant atheist reformed as an Anglican and finally arrive home, he says, as an English Roman Catholic. How odd.
But Chesterton observed the world around him—secular and religious—and this was his conclusion.
And, what sometimes seems like a million years later, his observations couldn't be more true.
As a Catholic, even a recent convert, I've become accustomed to the sight of a man in a robe. A near dress.
In fact, in my experience of the humblingly beautiful Latin Mass I'm pretty sure the ordinate lace vestments are actually considered dresses by those that humbly don them.
With that in mind, I've often wondered what the reaction would be of my Evangelical friends, in an Evangelical context, if the pastor strode up to the front of the church for his sermon wearing the same ornate liturgical purples that we saw this weekend at Mass.
Dumb-founded?
I'm genuinely curious.
But as accustomed as I've become to seeing a male, in leadership, wearing what amounts to a kind of purple dress I'm not meant to grow accustomed. None of us are. And that's the point.
Purple vestments (which herald the season of Advent) signify something—in this case they announce something incredible—and they're meant to shake us out of the world.
This, in part, is why the priest wears purple.
The priest, and all parts of the Catholic Mass, with its roots firmly planted in the very beginnings of Christianity, are meant to, for the moment, remove us from the world and transport us to be cheek to cheek with the heavenly hosts around the altar in Heaven.
Before our Lord.
In the same way, this is why, in part, our Catholic Churches were built to be so ornate. This is why there is sometimes (not enough) incense and bells and gaudy organ music.
We are being transported out of this world and into another (although I hope the organs in Heaven are a bit more in tune).
Certainly there are those that with the Catholic Church were, itself, more "in tune" with secular society and, in ways, especially in understanding how to reach out, improvements and prayers are sorely needed. But we don't want, on balance, a more worldly Catholic Church. That's besides the point.
The Catholic Church with its purples and incense and bells is, in our post-post-modern secular context, becoming so otherworldly it strains to be recognized. And this is its strength. This is what we ought to champion; this is the Catholic Church I want to hold up for others to say, "See, there's a Christian life that's not of this world!"
This, I think, is why the priest wears purple.