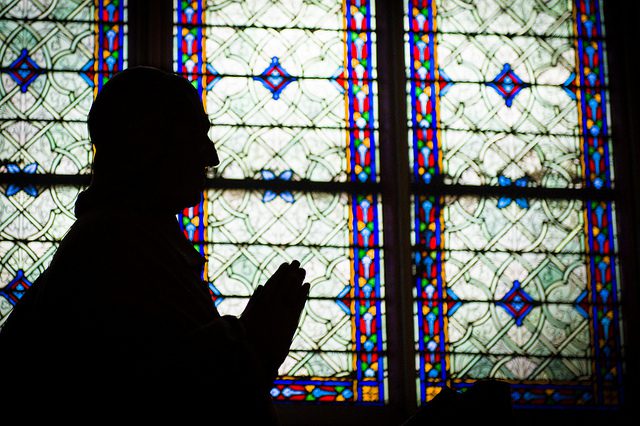 I'm a bit bleary-eyed but I think it's around 3AM.
Our son, Sam, is screaming. Again.
It's been a trying week and a bit what with teething and then an ear infection and then teething again and it seems like, maybe, this time it's his stomach.
Or tummy, as we seem to call it these days.
It's nights like these where I roll over, after climbing back into bed, and find myself making obnoxious declarations to my wife. "That's it! No more kids!" Even though we both know that this too will pass—and we'll likely be having more.
But it's nights like these, too, that make me wonder what the heck we pray for.
What's the point of prayer?
Because after having been woken up half a dozen times between 2 and 3AM, having muttered and uttered more prayers than I can count, I'm really beginning to question their efficacy.
"Lord," I mutter in desperation on my third wake up, "Please let him go back to sleep. Please make him feel better."
By wake up number four I'm desperately seeking out the prayers of the saints; the most reliable and sturdy ones I can conjure up in my decidedly foggy state.
St. Gianna Molla, St. Joseph, and St. Jude.
Pray for us!
And by wake up number six, after an hour of being roused every ten minutes, it's the most reliable and well-worn prayer of all, "Lord, have mercy!"
But, really, we don't have it that bad.
Friends with five, six, and seven kids would laugh at us rookies with our nearly barren quiver. We've got it easy. But all the perspective, hindsight, and fatalistic realism in the world does little good at 3 in the morning when we're roused by the dulcet sounds of a screaming 18-month old.
And, man, that scream.
So what's the point of prayer?
Because we pray and pray and pray… for things much more prescient than a toddler with a sore tummy or a good night's sleep. We pray for deeply important things like hope on the brink of being laid off; like healing and health for a friend on the stoop of death's door; like peace, for God's sake, in the Middle East.
For all those torn-up souls in Syria.
We pray: in churches, in crowded vigils, in our small communities. We pray in public and in private; with eloquent and stirring words and with a simple, guttural, groaning in our soul. A calm, collected petition or a desperate nighttime plea—a lifeline thrown blindly in the direction of Something Bigger.
We do all this praying and like me, in the middle of the night, we begin to wonder what it's all for because my son is still sick and waking up, again. Or our employment is still precarious, at best. Or our friend is still dying, or has died.
And there is still so much needless violence and death.
So what's the point of prayer?
Here, as I often do, I find a great deal of wisdom is French theologian Louis Bouyer who dedicates a whole chapter to prayer in An Introduction to the Spiritual Life.
Bouyer writes,
…[our] incessant meetings with God… little by little, cause all our activities, even the most apparently profane, to be absorbed into one divine action.
And, later on, that frequent, fervent prayer is intended "in such a way as to orient [our lives] wholly toward Christ and toward God."
By coming to God over and over again in prayer we are conforming our actions, as well as our hearts and minds, towards His divine will.
We are becoming more like Christ. Bit by bit.
It is like how St. Paul admonishes us to "pray without ceasing." If we turn to God over and over again in prayer we become utterly reliant on His grace, and fully submissive to His will.
And that's beautiful. And that's scary, too.
To realize, in the middle of the bleary night, that I have no more control over my life than my poor screaming son does. This is a genuinely astonishing thing. But incredibly true because my heart could stop beating at any minute—and, come to think of it, how did it start in the first place?
We are utterly out of control.
Instead, God intends us to constantly turn to Him in prayer so that it's Him we rely on instead of ourselves.
This is what Jesus meant when He told us we need to become like children—like my child, and it makes so much sense now that I'm a father.
So we pray. In the clear light of the middle of the day or the deep darkness of the middle of the night. Not because God will wave His magic wand and silence my suffering toddler but so that He will—and He will!—give us the grace we need to trust in Him.
Little by little, becoming more trusting, and more like Christ.
And that's the point of prayer.