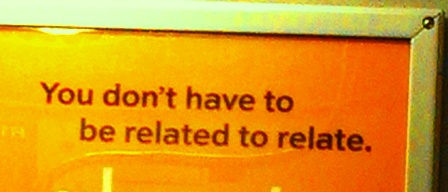 For the last few years, I've actively participated in Lent. I, like many others, gave up various things during the 40 days preceding the Resurrection celebration but this year I wanted to try something different. So during this season I've decided to consider then write about what it means to minister.
I keep seeing this poster on the train that says the following:
"You don't have to be related to relate."
I love it and it makes me think of the beauty that lies in the human family and the family of God. We don't have to look or act alike or even have a ton in common to relate to someone. Hell, you don't even have to understand because sometimes relating is practicing presence.
It's being there for someone even if silence is all you have to offer. It's giving, even (or especially) to others who don't have without passing judgement on them or questioning how they will use what you have given. It's striving to embrace a posture that celebrates communion and community in a culture that is increasingly about the individual.
Relating is considering another person's need in a situation and treating them with love in that moment. That act of relating is ministry because in that moment you have loved someone else like Jesus loves you. A simple action (or inaction) is like 1000 sermons or 100 prayers for someone who simply needs to be acknowledged.
So yeah, ministry sometimes looks like working to be present for your fellow man in whatever capacity they may need.