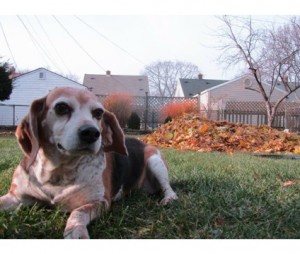 This is a guest post by Ani Zonneveld.
As a Muslim, I like watching TLC's "All-American Muslim." It gives me an insight into how other fellow Muslims, who are not like me, live their lives. Unlike the community in Dearborn, Michigan, I don't live in a mostly Arab community. My community is mostly white, mixed in with straight and gay folks of Christian and Jewish faith.
Some of the insights I gain from watching the show are amusing, enlightening and sometimes aggravating. Sometimes I find myself protesting, "But, but, but that's not Islam!!" But what I feel is Islam or not is irrelevant. This is about the cast members' lives in America. I'm especially interested in the expression of the identities of second generation American Muslims. Some cling on to their parents' heritage while others are aware of it and identify with it, but have moved on from it. Our American Muslim identities and how we live out as such intrigues me.  
A Dog Suffers
In last week's episode the strongest BUT, BUT, BUT reaction I had was the decision by Shadia McDermott to give away her husband Jeff's dog Wrigley, whom he had for 16 years. I confess, I cried. The confused look of the dog at the gate and Jeff weeping, broken hearted, was unfair. And, in my interpretation, it was unjust. I don't understand why dogs are such an issue in the Muslim world.
For those of you interested I know Islamic scholar Dr. Khaled Abou El Fadl has written extensively on it from a religious and Arab perspective. Some even think that it is haram (forbidden) to keep a dog. As a lay person, dogs (and sometimes my cat) are the sweetest things to have around. They love you back unconditionally. If you don't know what the feels like, trying adopting a pet.
"I would love to have a compromise that benefits my health and Jeff's happiness," said Shadia. How is it a compromise if they ended up giving the dog away? What happened to Jeff's happiness? Shadia needs to learn some compassion from her mom, who sweetly commented, "You can't do that [give the dog away]. That's his baby!" Shadia's mom chalks a point on the compassion board.
What I saw here was Shadia using cultural baggage and religious excuse to get her way, though she cited the problem of her allergies. If the decision was made from the perspective of "given my allergies, what can we do to accommodate Wrigley?" then I'm sure the outcome would have been different. I understand the pressures Shadia must have felt about the cultural taboos of having a dog, of not being able to pray with a dog in the house. Sorry to "dog" on Shadia, but I don't think she tried hard enough to accommodate Wrigley and by default, Jeff. Jeff converted to Islam to marry Shadia; the least Shadia could have done was keep Jeff's beloved Wrigley.
The Evolution of Nader
Nader Aoude. Here's a guy who's evolved from having an aversion to crying babies to having his "Daddyness" kick in with the birth of his son! The transformation is stark, but over several episodes Nader has shown himself to be one of those engaging husbands, getting into his wife's head with his concern for her well-being, and generally having a glass half-full outlook to top. Even my 13-year-old daughter commented how that's the kind of guy she'd like to marry!  
I'm really glad to see men like Nader and Mike Jaafar represented as loving husbands and fathers who happen to be Arabs. It is sad to see how Arab men have been demonized since 9/11, and the image of these men kissing and loving their child/ren breaks down the prejudices more so than any pro-Muslim billboard campaign can. I can't imagine how difficult it has been for Arab men to live out their identities.
I suppose living in a community that mostly shares race and religion shields you from the taunts that a lone Muslim man would encounter in a community where you are Muhamnmad repairing people's washer and dryers in, say, Sherman Oaks, CA. For some who have been on the receiving end of being called a 'Talib" and many other derogatory terms, camouflaging one's identity is probably, temporarily, the most mentally healthy step to take.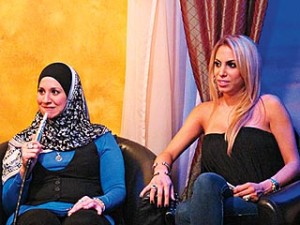 The Hijab Factor
Lastly the hijab! The problem with this series is there's too much focus on the hijab. Every episode touches on it. And I know this is going to get a lot of hijab-wearing women riled up, but why such fancy hijabs? Can someone explain that to me? It has become a fashion statement. Isn't it supposed to be a statement of modesty? And why the tight clothes to go along with it?
Having a middle school-age girl wear a hijab, in my opinion, is going too far — and at a new school, too. As a parent, I am witnessing the identity upheaval a teenager is going through. To impose a hurdle can't be healthy. Parents need to allow their child to develop their own identity. Let the shy girl find herself first. To the Zabans and parents like them, the best a parent can do is to teach your child to make the right choice, because we can't protect them 24/7. It is guaranteed we won't be around when they are about to make a mistake!
The one thing I can't get over is how similar Suehaila Amen and Nina Bazzy are. Both are strong women, determined to live their own lives but shackled by their community's cultural boundaries. What wrath will Nina's family receive should she open up a club? How will Suehaila's family handle things should she decide to move to Washington, D.C.?
Too often women in the Muslim communities are short changed — yes, come do all the work for our community, but only men can hold a leadership role in the mosque whether it be on the board or leading prayer. For me, these two Muslim women's dilemma jumped out of the television screen. Both women are bold and ambitious, competent in their own ways.  We shall find out if their community will allow them to live out their dreams.
I'll be cheering, "You go girls!!" as I tune in to tonight's episode and future episodes.
"All-American Muslim" airs Sunday nights at 10 p.m. on TLC.
Ani Zonneveld is co-chief editor of Progressive Muslim Identities-Personal Stories from the U.S. and Canada. Ani is a songwriter, producer, and activist. As a songwriter/producer she has won many awards including a Grammy certification for her song contribution to Keb' Mo's album,Keep It Simple. Post 9/11 she wrote and produced the first Islamic pop album by a female singer, titled Ummah Wake Up, followed by One, an interfaith album. Uniquely blending her two worlds of music and social activism into one, Ani speaks and sings her message of social justice, human rights, and peace, from a Muslim's perspective. In 2006, she was named a Muslim Leader of Tomorrow by the American Society for Muslim Advancement. As co-founder and president of Muslims for Progressive Values, a national grass-roots organization, she has organized interfaith arts and music festivals performs wedding services for mixed faith and gay couples. Click here and here to learn more about Ani.