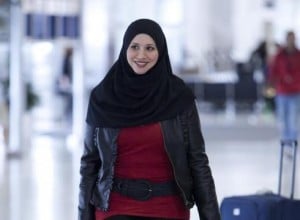 TLC's "All-American Muslim" is airing its season finale tonight. The episode follows the trajectory of most reality-show season finales — some story lines are satisfactorily wrapped up (hint: Coach Zaban's Fordson Tractors play a seminal game against their archrivals, Dearborn High), while other cast members near a climax in their personal stories (will Suehaila Amen be leaving her parents and Detroit to pursue her career in Washington, D.C.? Did Nina Bazzy open her club?). Is it enough to leave you wanting more? Will "All-American Muslim" be renewed for a second season? Time will only tell.
Though the show received a huge boost in the media from the Lowes advertising boycott and subsequent battle against bigotry and Islamophobia, the ratings continued to drop over the season due to one perplexing problem: How does a program with the premise that American Muslims are just like everyone else retain viewership without sensationalistic characters and storylines? I am hoping the likeability of the cast members and the realness of their lives will draw viewers in and will bring it another season.
At the end of the day, whether you were not a Muslim or a Muslim — many things were learned from this program. Was this country ready for a show about American Muslims? Cast member Suehaila Amen thought so. I caught up with Suehaila to talk to her about what it was like to film the program, whether she left the nest, what she thought of viewer's reactions, and whether it was all worth it.
So, the world is wondering — are you still in Dearborn or have you moved to Washington, D.C.?
Suehaila Amen: I'm still in Dearborn, still looking at possible options. [I know it's unusual that I'm still at home] because the American public doesn't understand our culture. There's no need to emancipate yourself from your family because we feel our family is doing the best for us. I don't feel desperate to leave home, because I don't feel I have a family who are holding me back,
It's a part of American culture that people feel at 18, they need to hurry up and go. My parents are like, why do you want to go? They don't bother me. I [don't] need to ask anyone's permission to do anything. For my non-Arab friends, their parents are anxious to get them out of the house because they want to "live their lives." My parents live their life, and I'm still at house. I don't place a hindrance on them, and they don't on me.
Have you been happy with the way the show portrayed you?
SA: I've been very content with the way the show has been edited and the way it's portrayed each of the cast members. I've enjoyed watching it. It's who we are.
Ratings haven't been strong, and some believe it's because in portraying "regular," everyday American Muslims, the show isn't exciting enough.
SA: It's important that the show stays true to what it is. It's a show about family, about the way people embrace their lives in American society, and how they have assimilated and acculturated to live their lives being content as American and Muslim. If it had been anything else, with the disturbing and disgusting behaviors you see in other shows, in my eyes it would've been a failure. It's important to have quality programming, to see the reality of a misunderstood community, and open up the minds of people to see Muslim Americans as we are – a diverse group of people living our lives in our own ways, practicing our faith in our own ways.
How has the feedback been from Muslim viewers?
SA: [The program has] done something very important – it's created that dialogue. It also created that line of communication for other Muslims to respond to the show. For Muslims, it's a stepping stone for us. It's the first opportunity for a major network to create a show about Muslim Americans. So, showing [American Muslims] in any positive light is something that's positive for the greater Muslim community. I think we should focus on that and be thankful for that instead of trying to dissect [the show].
How has the feedback been from non-Muslim viewers?
SA: The response from non-Muslins has been overwhelming. Many non-Muslims have come to me and said, "It's really shown me a side of a community that I always misunderstood. Thank you for putting your lives out there."
There are people, in Middle America, who have never seen a Muslim or an Arab or anyone of any ethnicity. For them, we've made that headway in engaging people, showing them that there they have neighbors, who look differently, and who have contributed greatly to society. I think it's very important for people to realize we are a very diverse nation. We need to take pride in the diversity, to give us that opportunity to be successful. A show like "All-American Muslim" is giving people the chance to have those conversations.
It seems Muslims in American are facing more adversity now than in the immediate years after 9/11. Would you agree?
SA: Absolutely. It's a very sad fact that we have people running for the presidency who are extremely racist, who continue to spew their own hatred. It's frightening to hear what they are saying, and oh my God, one of these people could be the next president of America. It's a continuous struggle for us, just like African Americans struggled and Japanese Americans struggles. Unfortunately, now it's our turn. Day by day we're going have to deal with this and engage these people in these conversations.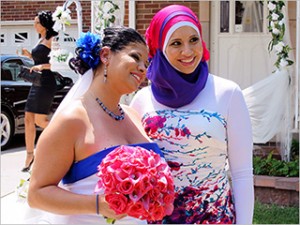 What were some of the most fun things for you to watch on "All-American Muslims?"
SA: Definitely my sister's wedding. Watching it unfold on television brought back fun memories of when we were filming. It was the first week of production, and we had told the nail salon that there would be a few cameramen, that there was a documentary being made. At the time, we didn't know if it would get picked up by TLC, so we had to keep that quiet. And so, to walk in the nail salon and see 18 people there filming was hilarious!
We also had to figure out a way to explain the cameras at the wedding, so I had to tell everyone at the wedding that my parents are creating a video montage to get me married! It was a big inside joke.
Also, watching Nadar and Nawal having their baby – we were anxiously awaiting to see it happen on television, though we had already gone through it. And watching the episode with Shadia and Jeff and Wrigley, we were all crying just watching it, even though we knew Wrigley had come home the very next day!
Is this show an accurate portrayal of Islam in America? Is it even possible for one show to represent all Muslims in America?
SA: People need to understand that our show isn't representative of the entire Muslim community. The show isn't about Islam. The show is about American families, and the fact that we are Muslim. There are lots of people who are like Nina, who are like me, who are like Bilal, who are like Shadia. People need to realize that they can't hold human beings who are imperfect to that standard of what a "good Muslim" should be.
A program about Islam can only be a documentary format, not in this format – as a reality show about Muslim families. People need to understand that at the end of the day, we are fallible in the way we practice our faith — to each their own. That's the beauty of living in this country.